The neck, also known as the cervical region, is a complex and highly mobile structure that plays a pivotal role in our day-to-day functions. Responsible for supporting the weight of our head, it allows us to gaze upon our surroundings and communicate with the world. However, with increasing sedentary lifestyles, poor postural habits, and constant screen time, the cervical region is frequently subjected to stress and strain, leading to cervical pain. Physiotherapy has emerged as a trusted, evidence-based approach to managing and alleviating cervical pain. In this blog, we will delve deep into how physiotherapy for cervical pain can be an effective solution, discussing techniques, and benefits.
Is Physiotherapy Good For Cervical Pain?
Physiotherapy is a widely recognized and effective treatment for cervical pain. The cervical region, comprising the neck and its structures, can experience discomfort and stiffness due to various factors such as prolonged sitting, poor posture, injuries, or age-related degeneration. Physiotherapists utilize a combination of techniques to address the root causes of the pain, restore range of motion, and strengthen the supporting muscles of the neck.
The benefits of physiotherapy for cervical pain are multifaceted. Not only does it provide immediate relief from pain and discomfort, but it also offers long-term solutions by teaching patients preventative strategies. Through individualized assessment and treatment plans, physiotherapists for cervical pain can offer targeted interventions that address specific patient needs. This will ensure that the individual regains optimal neck function.
What Are Some Physiotherapy Techniques for Cervical Pain Relief?
Physiotherapy employs a variety of evidence-based techniques to provide relief from cervical pain. The specific approach taken often depends on the patient's condition, the underlying cause of the pain, and the physiotherapist's assessment. Here are some commonly utilized techniques:
Manual Therapy
Manual therapy is often regarded as the cornerstone of physiotherapy. It focuses on the hands-on techniques that physiotherapists use to diagnose and treat soft tissue and joint structures. Within the realm of cervical pain:
Mobilizations involve slow, rhythmic, and controlled movements applied to the neck's joints. These movements can range from gentle oscillations to deeper stretches, aimed at improving joint mobility and reducing stiffness. Mobilizations can specifically target a particular segment of the cervical spine or address the region as a whole.
Manipulations, on the other hand, are swift thrusting actions applied to the cervical joint. They are designed to realign joint structures and can often produce an audible 'click' or 'pop'. While manipulations can offer immediate relief for some, they require thorough assessment and caution as they aren't suitable for all patients.
Electrotherapy
Electrotherapy encompasses a range of treatments that use electrical energy to promote healing, reduce pain, and restore function. In the context of cervical pain:
Transcutaneous Electrical Nerve Stimulation (TENS) works by sending mild electrical impulses through electrodes placed on the skin. These impulses can interrupt or mask pain signals, offering relief from pain and promoting endorphin production, the body's natural painkiller.
Ultrasound therapy doesn't involve sound that we can hear. Instead, it uses high-frequency sound waves that generate heat deep within the tissues. This promotes blood flow, accelerates the healing process, and can help in breaking down scar tissue.
Laser Therapy utilizes low-level lasers or light-emitting diodes to stimulate cell function. This can result in reduced inflammation, pain relief, and enhanced tissue repair.
Thermal Therapy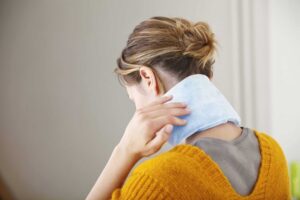 The use of temperature in treating injuries is a long-standing practice in physiotherapy.
Heat Therapy can be particularly effective for chronic cervical pain or stiffness. By applying warm packs or towels, the heat dilates blood vessels, increasing blood flow to the region. This not only alleviates pain but also relaxes tense muscles and enhances mobility.
Cold Therapy or cryotherapy involves the use of ice packs or cold compresses. It's beneficial immediately after an injury because it constricts blood vessels, reducing inflammation, and numbing the painful area.
Soft Tissue Techniques
The muscles and ligaments around the cervical region can hold tension or develop trigger points. And leading to pain and restricted movement.
Massage is a hands-on technique where physiotherapists manipulate soft tissues to relieve tension, promote relaxation, and improve circulation. Different massage techniques can be employed based on the patient's specific needs.
Trigger Point Release targets specific tight spots in muscles known as trigger points. By applying direct pressure to these points, the muscle can relax, providing relief from pain and improving the range of motion.
Dry Needling
Dry needling, often mistaken for acupuncture, is a treatment technique where fine, sterile needles are inserted into trigger points in the muscles. The aim is to release tension, stimulate healing, and reduce pain. When the needle is inserted into a trigger point, it can cause a brief twitch or cramping sensation, which is typically followed by relief from muscle tightness.
Taping and Bracing
While movement is often encouraged, there are instances where providing some external support or altering movement patterns can aid in recovery.
Taping, using adhesive tapes like kinesiology tape, can offer support, alleviate pain, and retrain muscles or joints. The elasticity and properties of these tapes can also enhance blood flow and lymphatic drainage.
Bracing, in the context of cervical pain, might involve the use of soft collars. These can provide temporary support, especially post-injury. But are generally not recommended for prolonged use as they can weaken neck muscles.
When considering any of these techniques, it's crucial to undergo a thorough assessment by a qualified physiotherapist. This will help to ensure the chosen approach is tailored to the individual's unique needs and conditions.
What Are Some Exercises And Stretches To Help?
Certainly! Addressing cervical pain often requires a combination of exercises and stretches to both strengthen and improve flexibility in the neck and surrounding areas. Below are some commonly recommended exercises and stretches. Please note that it's essential to perform these movements gently and within a pain-free range. Always consult with a healthcare or physiotherapy professional before starting any new exercise regimen.
Exercises for Cervical Pain
1. Isometric Neck Exercises
Push your hand against your forehead and resist the movement with your neck muscles.
Do the same on both sides and the back of your head.
Hold each position for 5-10 seconds.
2. Neck Retraction (Double Chin Exercise)
Sit or stand tall.
Tuck your chin to create a "double chin" without tilting your head back.
Hold for 5 seconds and release.
3. Shoulder Blade Squeezes
Sit or stand with your arms relaxed by your side.
Squeeze your shoulder blades together as if you're trying to hold a pencil between them.
Hold for 5 seconds and release.
Stretches for Cervical Pain
1. Neck Tilt Stretch
Sit or stand up straight.
Tilt your head to one side, bringing your ear toward your shoulder until you feel a stretch on the opposite side.
Hold for 15-30 seconds and switch to the other side.
2. Neck Turn Stretch
Sit or stand tall.
Gently turn your head to one side, aiming your chin over your shoulder.
Hold for 15-30 seconds and repeat on the opposite side.
3. Neck Extension Stretch
Sit or stand up straight.
Carefully tilt your head back, looking upward, until you feel a gentle stretch along the front of your neck.
Hold for 15-30 seconds.
4. Levator Scapula Stretch
Sit or stand up straight.
Tilt your head diagonally forward, as if trying to bring your nose to your armpit.
You can use your hand to gently guide the stretch.
Hold for 15-30 seconds on each side.
5. Front Neck Stretch
Sit or stand up straight.
Place one hand on your chest to anchor the collarbone down.
Gently tilt your head back, looking up, and use the other hand on the back of your head to guide a deeper stretch.
Hold for 15-30 seconds.
These exercises and stretches can help alleviate some of the symptoms related to cervical pain. However, consistency is key, and individuals should prioritize doing them regularly. Remember always to warm up before stretching, move into stretches gently, never force a movement, and, if pain persists or worsens, seek professional advice.
What Are Some Benefits Of Physiotherapy for Cervical Pain?
Physiotherapy offers a comprehensive approach to managing cervical pain, incorporating evidence-based techniques and personalized care. Here are the prominent benefits of physiotherapy for cervical pain:
Pain Reduction and Relief: Through modalities like electrotherapy, manual therapy, and specific exercises, physiotherapy targets the root causes of pain, providing both immediate and long-term relief.
Improved Mobility: Cervical pain can lead to stiffness and restricted range of motion. Physiotherapeutic interventions, particularly stretches and mobilizations, can help restore the neck's natural flexibility and movement.
Muscle Strengthening: Targeted exercises aim to fortify the muscles supporting the cervical spine, offering better stability and resilience against future strains or injuries.
Postural Improvement: Poor posture, often a contributor to cervical pain, is addressed through postural training and ergonomic advice. By correcting posture, the load and stress on the cervical spine are reduced.
Decreased Dependence on Medication: By addressing the root cause of pain and providing natural relief, there's often a reduced need for pain medications, which can come with side effects.
Holistic Approach: Physiotherapy not only addresses the physical symptoms but also factors like lifestyle, work habits, and psychological well-being, ensuring a comprehensive approach to treatment.
Enhanced Quality of Life: Alleviating cervical pain and its associated symptoms often translates to improved sleep, better functional ability in daily activities, and overall enhanced well-being.
Given the multifaceted benefits of physiotherapy for cervical pain, it's no surprise that many individuals find significant relief and improved neck function through this approach. Always consult a licensed physiotherapist to determine the best course of treatment for any neck issues.
Conclusion
Cervical pain, a widespread ailment in today's digital age, can significantly hinder our daily lives and overall well-being. However, with the comprehensive benefits that physiotherapy offers, individuals can not only find relief but also adopt a proactive approach to neck health. By integrating physiotherapy's therapeutic techniques with daily practices, we can ensure a healthy cervical spine and a pain-free, active life.
Seeking professional advice and staying consistent with post-therapy guidelines are key to maintaining lasting spinal health. Physical Therapy helps patients recover from pain. If you're experiencing Back, Shoulder, Knee, Neck, Elbow, Hip, or Arthritis pain, a physical therapist at PhysioMantra can help: Book an online physical therapy session.