While the mental and emotional implications of anxiety are extensively discussed, less attention is paid to its physical manifestations. One such presentation is shoulder pain, an ailment that many wouldn't instinctively link to mental well-being. This article delves into the intricate relationship between anxiety and shoulder pain, offering insights into their connection and providing actionable steps for relief and management.
Can Anxiety Cause Pain In Shoulders?
Yes, anxiety can lead to pain in the shoulders as well as in other parts of the body. Here's how:
Muscle Tension
One of the most direct ways anxiety can lead to shoulder pain is through persistent muscle tension. When anxious, the body naturally tenses up as a protective response. Over time, this consistent tension, especially in the shoulders and neck, can lead to pain and discomfort.
Stress Response
The body's stress response, often termed the "fight or flight" response, prepares the body to face a potential threat. This involves releasing stress hormones such as adrenaline and cortisol, which can increase heart rate, blood pressure, and muscle readiness. With chronic anxiety, the body might remain in this heightened state for extended periods. Ultimately, leading to muscle strain, especially in areas like the shoulders.
Posture
Anxiety and stress can also impact posture. Individuals with anxiety might hunch their shoulders, curve their spines, or adopt other protective postures. Over time, this can lead to muscular imbalances and pain.
Hyperawareness
People with anxiety are often hyper-aware of their bodily sensations. This heightened sensitivity can make them more attuned to any discomfort or pain in the body, including in the shoulders. What might be mild tension for someone else can be perceived as more intense pain by someone with anxiety.
Other Physical Manifestations
Apart from direct muscle tension, anxiety can also lead to other physical symptoms like headaches, stomach issues, or fatigue, which can indirectly influence shoulder pain. For instance, a tension headache originating from the neck can cause referred pain to the shoulders.
Emotional Holding Patterns
Some theories suggest that people hold onto emotional traumas and stresses in specific parts of their bodies. The shoulders, for example, can become repositories for emotional burdens or "carrying the weight of the world on one's shoulders."
It's important to note that while anxiety and shoulder pain can be connected, shoulder pain can also have numerous other causes, including injuries, arthritis, inflammation, and more.
What Does Shoulder Pain From Anxiety Feel Like?
Shoulder pain resulting from anxiety may manifest in a variety of ways, depending on the individual and the severity of their anxiety. Here's how some people might describe it:
A constant, dull ache or feeling of tightness in the shoulders, particularly at the tops where the shoulder meets the neck. This can feel like the muscles are constantly contracted and can't relax.
Some people might feel specific tight spots or "knots" in their shoulder muscles, especially in the trapezius, which spans the neck, shoulders, and upper back. These knots can be painful to touch.
Occasionally, individuals may experience muscle spasms — sudden, involuntary muscle contractions. This can be sharp and painful.
Pain might not be localized to the shoulder alone. It can radiate up to the neck, leading to tension headaches, or down the arm.
Heavy or Weighted Feeling
Some describe a sensation of weight or heaviness on their shoulders as if they're "carrying a burden."
Due to the persistent tension, there might be a reduced range of motion. Turning the head or lifting the arms might become uncomfortable.
Rarely, some individuals might describe a burning or tingling sensation, possibly due to the prolonged tension affecting nerve endings.
While anxiety can indeed lead to these sensations in the shoulders, it's essential to remember that other medical conditions can cause similar symptoms. If someone is experiencing shoulder pain, especially if it's sudden or severe, it's crucial to seek medical attention to rule out potentially serious causes.
How Do I Get Rid Of Anxiety And Shoulder Pain?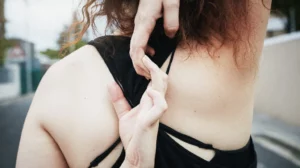 Combating anxiety and shoulder pain requires a multifaceted approach, combining both mental and physical interventions. Here are some steps you can take:
1. Relaxation Techniques
Engage in relaxation exercises like deep breathing, progressive muscle relaxation, or guided imagery. These can reduce stress and help muscles relax.
2. Physical Therapy
If your shoulder pain is persistent, consider seeing a physical therapist. They can provide exercises and stretches tailored to relieve tension and improve posture.
3. Mindfulness and Meditation
Meditation, especially mindfulness-based stress reduction (MBSR), can be effective in managing anxiety and its physical manifestations.
4. Exercise
Regular physical activity, especially aerobic exercise, can help reduce anxiety and alleviate muscle tension. It releases endorphins, which are natural painkillers and mood elevators.
5. Massage
A professional massage, especially from a therapist familiar with treating tension and pain linked to anxiety, can be very effective.
6. Maintain Good Posture
Being aware of and correcting poor posture can reduce shoulder strain. Ergonomic changes, especially if you work at a desk, can also help.
7. Limit Caffeine and Sugar
Both can provoke anxiety and cause muscle tension.
8. Heat or Cold
Applying a warm compress or cold pack to your shoulder can help relieve pain and reduce muscle tension.
9. Stretching
Regular stretching can help alleviate and prevent shoulder tension. Simple neck and shoulder stretches can be done throughout the day.
10. Sleep
Ensure you're getting enough rest. Fatigue can exacerbate anxiety and muscle tension.
11. Limit Alcohol and Tobacco
Both can increase anxiety and interfere with sleep.
12. Establish a Routine
Keeping a regular routine, even a simple one, can provide a feeling of normality.
13. Seek Support
Talk to someone you trust about your anxiety. It can be a friend, family member, or therapist.
14. Avoid Overexertion
Be mindful not to overstrain your shoulders, especially during exercises or heavy lifting.
15. Professional Help
If your anxiety and shoulder pain are persistent and impacting your quality of life. Then, you should consider seeking help from professionals. Such as psychologists, psychiatrists, or counselors.
Remember, the combination of treatments and strategies that work will vary from person to person. However, it might take some experimentation and patience to find what's most effective for you.
How Long Can Anxiety Muscle Tension Last?
Anxiety-induced muscle tension can vary in duration, largely dependent on the individual and the specific triggers or stressors they're facing.
For some, muscle tension may appear during an acute episode of anxiety and resolve within minutes to hours after the stressor has been removed or the episode has subsided. These short-lived episodes are typical of situational anxiety. Such as the kind one might experience before an important meeting or presentation.
However, for individuals dealing with chronic anxiety, such as generalized anxiety disorder or chronic stress, muscle tension can persist for days, weeks, or even longer. This prolonged state of tension can sometimes create a feedback loop where the physical discomfort exacerbates the anxiety.
Over time, if not properly addressed, this ongoing tension can contribute to other health issues like tension headaches, posture problems, and musculoskeletal disorders.
How Can I Prevent Anxiety And Shoulder Pain?

Preventing anxiety and shoulder pain involves integrating various lifestyle practices and strategies to maintain both mental and physical health. Here are some ways to help prevent these issues:
Stay Hydrated: Drinking enough water helps maintain muscle function and can prevent cramping and stiffness.
Diversify Workstations: Switch between sitting and standing desks or change your work environment periodically to prevent static postures.
Ergonomic Accessories: Use ergonomic keyboards, mouse pads, and chairs to support a neutral body posture.
Time Management: Organize your tasks and break them into manageable chunks. Prioritize and avoid cramming, which can lead to heightened stress.
Limit Screen Time: Regularly taking breaks from screens can prevent eye strain and the consequent tension that builds up in the neck and shoulders.
Engage in Hobbies: Pursuing leisure activities, whether creative or physical, can act as a stress reliever and divert attention from potential anxiety triggers.
Social Engagement: Participate in social activities or group exercises. Being around others can create a sense of belonging and decrease feelings of isolation.
Grounding Techniques: Techniques like the "5-4-3-2-1" method, where you identify five things you can see, four you can touch, three you can hear, two you can smell, and one you can taste, can help anchor you in the present moment.
Regular Check-ups: Periodic visits to healthcare professionals can help catch and address issues before they escalate.
By integrating these habits and practices into your daily life, you can create a foundation that minimizes the risk of anxiety and associated shoulder pain. Remember, consistency is key, and it's essential to find what combination of strategies works best for your unique needs.
Conclusion
In our intricate tapestry of mind and body, anxiety and shoulder pain are intricately woven together, reminding us of the undeniable connection between mental and physical health. By understanding this relationship and adopting comprehensive approaches, we can address both the root and the symptom, moving towards a state of holistic well-being.
Embracing a combination of mental techniques, physical habits, and a proactive approach can alleviate current discomforts. And also serves as a protective shield against future ailments. If you're experiencing Shoulder pain, physical therapy for shoulder pain at PhysioMantra can help: Book an online physical therapy session.