Shoulder spasms, while not uncommon, can catch many off-guard with their sudden onset and sharp discomfort. Whether you're an athlete, office worker, or someone dealing with chronic pain, understanding shoulder spasms can be beneficial for both managing and preventing them. In this blog post, we delve into the various reasons behind these spasms, explore potential remedies, and discuss strategies to prevent them from recurring.
What Are Shoulder Spasms?
Shoulder spasms refer to the involuntary contraction or sudden tightening of the muscles in the shoulder region. These contractions can range from a mild twitch to severe pain and can occur unexpectedly, catching an individual off-guard. The spasms can be short-lived, lasting just a few minutes, or they can persist for extended periods.
The cause of these spasms often varies, stemming from factors like muscle fatigue, overexertion, trauma, dehydration, or underlying medical conditions. While they are usually not a cause for immediate concern. Still, the recurrent or intensely painful spasms may indicate an underlying issue that requires medical attention.
What Does a Shoulder Spasm Feel Like?
A shoulder spasm feels like an involuntary contraction or sudden tightening of the muscles in the shoulder region. The sensation can vary widely among individuals and depending on the severity of the spasm. Some common descriptions include:
Mild Twitching: This feels like a slight fluttering or momentary tightening of the muscles, often going unnoticed or causing minimal discomfort.
Sharp, Sudden Pain: Some spasms come on abruptly and can feel like a sudden, sharp jolt or stabbing pain in the shoulder area.
Prolonged Tightness: This sensation is akin to the shoulder muscles being clenched or squeezed tightly, often accompanied by a feeling of pressure or tension.
A Knot or Hard Lump: Some individuals may feel or even palpate a hard lump or knot in the muscle where the spasm is occurring. This is due to the muscle fibers contracting and bunching up.
Restricted Movement: Severe spasms can make it challenging to move the affected shoulder. Ultimately it leads to a decreased range of motion or a feeling of stiffness.
Radiating Discomfort: In some cases, the pain or tension from a spasm may radiate to nearby areas. Such as the neck, upper back, or down the arm.
The intensity and duration of the sensation can vary, with some spasms lasting just a few seconds and others persisting for hours. If someone is unsure of what they're experiencing, it's always a good idea to seek medical advice.
Is Shoulder Twitching Serious?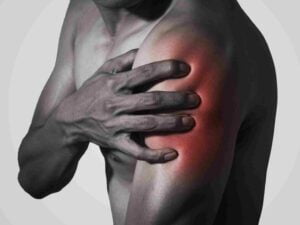 Shoulder twitching, in many instances, is not considered serious. It often results from benign causes. These twitches, commonly referred to as fasciculations, can occur spontaneously and resolve on their own without any lasting complications. Temporary factors like caffeine consumption, stress, or certain medications can also lead to transient muscle twitches.
However, persistent or recurrent shoulder twitching, especially when accompanied by other symptoms such as weakness, pain, muscle atrophy, or changes in sensation, could be indicative of a more serious underlying condition. That might include nerve damage or a neurological disorder. In such cases, it's important to consult with a medical professional to determine the cause and receive appropriate guidance or treatment.
What Are The Possible Causes And Risk Factors?
The following are some potential causes and risk factors that you should be aware of:
Causes
Muscle Fatigue: Overworking the shoulder muscles, such as with intense physical activity or repetitive motions, can lead to twitching as the muscles become fatigued.
Electrolyte Imbalances: Muscles require a balance of electrolytes like potassium, calcium, and sodium to function properly. An imbalance, often due to dehydration or poor diet, can result in muscle twitches.
Medications: Some drugs, including diuretics, corticosteroids, and estrogens, can cause muscle twitching as a side effect.
Stress and Anxiety: The body's physical response to stress and anxiety can manifest as muscle twitches or spasms.
Caffeine: Excessive consumption of caffeinated drinks can lead to muscle twitching in some individuals.
Muscle Strain: A minor injury or strain to the shoulder muscles can sometimes cause twitching as the muscle heals.
Nerve Compression: Pressure on the nerves that serve the shoulder, possibly due to herniated discs or other spinal issues, can lead to twitching.
Risk Factors
Physical Overexertion: Those who engage in intense or prolonged physical activities without adequate rest or recovery might be at a higher risk.
Existing Neurological Conditions: Individuals with certain neurological conditions or a family history of such conditions may be more susceptible.
Medication and Substance Use: Those on medications known to cause twitching or who consume excessive caffeine or alcohol may be at an increased risk.
Poor Diet and Hydration: Individuals not consuming a balanced diet or not staying adequately hydrated might be more prone to muscle twitches.
Age: Some age-related conditions or degenerative diseases increase the likelihood of experiencing muscle twitching.
While occasional shoulder twitching is often benign, persistent or severe symptoms should prompt consultation with a medical professional.
How Do I Stop My Shoulders From Spasming?
If you're experiencing shoulder spasms, consider the following remedies and preventive measures to help alleviate the discomfort:
Rest and Avoid Overexertion
If your shoulder spasms are due to fatigue or overuse, give the affected muscles adequate time to recover. Rest, and refrain from strenuous or repetitive activities that may aggravate the condition.
Apply Cold or Heat
Initially, applying cold packs can reduce inflammation and numb the area, providing relief. After 24-48 hours, heat application can help relax and soothe the muscles. Always use a cloth barrier to avoid direct skin contact and prevent burns or frostbite.
Gentle Stretching
Engaging in gentle stretches can help alleviate muscle tightness and reduce spasms. Remember to keep the stretches pain-free and avoid overstretching.
Stay Hydrated
Dehydration and electrolyte imbalances can trigger muscle spasms. Ensure you're drinking enough water throughout the day, especially if you're active.
Maintain Electrolyte Balance
Consuming foods rich in potassium, calcium, and magnesium, or taking supplements if recommended by a doctor, can help prevent muscle twitching and cramps.
Over-the-counter (OTC) Medications
Non-prescription pain relievers like acetaminophen or NSAIDs (e.g., ibuprofen) can alleviate pain and inflammation associated with spasms. Always follow the recommended dosages and consult with a healthcare provider if in doubt.
Massage
Gentle massage can help relax the muscles, increase blood flow to the affected area, and alleviate spasms.
Maintain Proper Posture
Poor posture, especially when sitting for long periods, can strain the shoulder muscles. Ensure you're sitting and standing with proper alignment, and take breaks to move around if you're in a stationary position for extended durations.
Physical Therapy
A physical therapist can provide targeted exercises and stretches to strengthen the shoulder muscles and prevent recurring spasms.
If the spasms persist or if you're experiencing other accompanying symptoms, it's essential to consult with a healthcare professional to determine the underlying cause and receive appropriate treatment.
How To Prevent Shoulder Spasms?
Certainly! Preventing shoulder spasms involves a combination of lifestyle changes, physical conditioning, and awareness. Here are some additional strategies to consider:
Regularly engaging in exercises that target the rotator cuff and the surrounding shoulder muscles can fortify them against undue strain and injury.
Always take time to warm up before engaging in physical activity and cool down afterward. This helps prepare the muscles for activity and minimizes the risk of spasms.
Ensure that your workstation, especially if you're working at a computer, is ergonomically set up. The screen should be at eye level, and your arms should be at a right angle when typing.
For those prone to shoulder issues, consider using shoulder supports or braces when doing strenuous activities.
Maintaining a healthy weight reduces the strain on your muscles and joints, including those in the shoulder region.
Regular Medical Check-ups
Regular health screenings can help detect and address potential issues before they escalate into problems that might cause muscle spasms.
Smoking can decrease blood flow to muscles and make them more prone to injury.
If a specific movement or activity consistently triggers shoulder spasms, consider modifying it or seeking alternative ways to accomplish the task.
Being conscious of how you move and lift objects, and ensuring you use proper form, can make a significant difference in preventing muscle strain.
Soaking in warm baths or pools can be a preventive measure, as it aids in muscle relaxation.
By integrating these measures into your routine, you can create a comprehensive strategy to minimize the occurrence of shoulder spasms.
Conclusion
In understanding and addressing shoulder spasms, it's evident that a multi-faceted approach is key. From recognizing the telltale signs of spasms to implementing both reactive and proactive measures, individuals can take charge of their shoulder health. A blend of lifestyle adjustments and informed physical activity forms the foundation for preventing and managing these muscle disturbances.
As with any health concern, staying informed and seeking timely medical advice ensures that one stays ahead of potential issues. Ultimately, maintaining optimal muscle function and overall well-being. If you're experiencing Shoulder pain, physical therapy for shoulder pain at PhysioMantra can help: Book an online physical therapy session.