A sharp, burning sensation in the shoulder can be more than just a fleeting discomfort. It might stop you mid-action, disrupt your daily activities, or even jolt you awake from a peaceful slumber. While some describe it as a searing hot sensation, others feel it more as an intense, prickly heat. This blog post aims to explore the common causes of burning pain in the shoulder, diagnostic approaches, and potential treatment options.
How Does Burning Pain In Shoulder Feel Like?
Burning pain in the shoulder can be described in various ways, as the sensation can be subjective and differ from one individual to another. However, there are common descriptions and feelings associated with this type of pain.
Searing or Scalding Sensation
Many individuals describe the pain as if their shoulder is on fire, akin to the feeling of a burn from touching something hot. It can feel as though there's a constant heat source on or inside the shoulder.
Instead of continuous searing pain, some might feel sporadic prickles or stabs of hot pain, almost like pinpricks of heat.
The pain may not always be localized strictly to the shoulder. It can sometimes radiate, creating a feeling of warmth or heat that moves down the arm or towards the neck.
The sensation might come in waves or pulses, intensifying and then subsiding but never fully disappearing.
There can be an underlying throbbing pain, overlaid with the sensation of burning, which can intensify with movement or at certain times of the day.
Exacerbation with Activity
The burning sensation might become more prominent with certain activities, like lifting objects, reaching overhead, or even simply moving the shoulder in certain ways.
In situations where a nerve is involved, such as in cases of nerve impingement or compression, there may be associated numbness, tingling, or "pins and needles" sensations alongside the burning pain.
It's crucial to note that the nature, intensity, and associated symptoms of the burning pain can provide clues to its cause.
What Causes A Burning Pain In The Shoulder?
Burning pain in the shoulder can arise from various causes. It can be broadly categorized into musculoskeletal, neurological, and systemic issues. Here's an overview of common causes:
1. Rotator Cuff Injuries
The rotator cuff is a group of muscles and tendons that stabilize the shoulder joint. Tears or strains in these tendons or muscles can lead to pain and discomfort. Overuse, trauma, or wear and tear from aging can result in these injuries.
2. Nerve Impingements
Also known as a pinched nerve, this occurs when there's excessive pressure on a nerve from surrounding tissues. In the shoulder, this is often due to inflammation, bone spurs, or herniated discs in the cervical spine.
Examples include cervical radiculopathy or thoracic outlet syndrome.
3. Bursitis
Bursae are fluid-filled sacs that cushion and reduce friction between bones and surrounding soft tissue. When inflamed, a condition called bursitis, can cause pain and restrict movement.
4. Tendinitis
This is the inflammation or irritation of a tendon. In the shoulder, it often affects the tendons of the rotator cuff or the biceps tendon.
5. Arthritis
Osteoarthritis can cause a breakdown of the cartilage in the shoulder joint, leading to pain and stiffness.
Rheumatoid arthritis, an autoimmune condition, can also affect the shoulder joint and cause pain.
6. Frozen Shoulder (Adhesive Capsulitis)
This condition involves stiffness and pain in the shoulder joint. Over time, the shoulder becomes very hard to move.
7. Fractures or Dislocations
Traumatic injuries, such as fractures of the shoulder bones or dislocations, can cause intense pain, including a burning sensation.
8. Muscle Strains
Overstretching or tearing of shoulder muscles can lead to pain.
9. Post-Surgery Pain
After surgeries, especially shoulder or neck surgeries, some patients may experience burning pain due to nerve irritation or other factors.
It's essential to consult a healthcare professional for an accurate diagnosis, especially since the underlying causes can have varying degrees of severity and require different treatment approaches.
What Are Some Diagnostic Approaches?
Determining the exact cause of shoulder pain is crucial for effective treatment. Various diagnostic tools and methods can help clinicians identify the root of the problem. Here's a detailed look at the commonly used diagnostic approaches for shoulder pain:
Clinical History and Physical Examination
The first step in the diagnostic process is often a detailed clinical history and physical examination.
Clinical History: The physician will ask about the onset, duration, and nature of the pain; any preceding injuries or trauma; activities that exacerbate or relieve the pain; and any associated symptoms.
Physical Examination: The doctor will assess the shoulder's range of motion, strength, and stability. They might also perform specific maneuvers to test individual tendons, ligaments, and muscles of the shoulder.
Imaging Techniques
X-rays: This is a fundamental imaging test that provides images of bones. It can detect fractures, bone spurs, arthritis, or other bone-related abnormalities in the shoulder.
Magnetic Resonance Imaging (MRI): An MRI provides detailed images of both bone and soft tissues, such as tendons, ligaments, and muscles. It's particularly useful for identifying soft tissue injuries like rotator cuff tears or labral tears.
Computed Tomography (CT) Scan: A CT scan provides a detailed cross-sectional view of the body and is sometimes used when the doctor needs a more detailed image of the bone or surrounding structures.
Ultrasound: This imaging technique visualizes soft tissue structures and can be used to assess rotator cuff tears or inflammation in real time. It's non-invasive and doesn't expose the patient to radiation.
Laboratory Tests
If an underlying systemic condition like rheumatoid arthritis or an infection is suspected, blood tests can help identify markers of inflammation or specific antibodies associated with certain conditions.
Electromyography (EMG) and Nerve Conduction Studies
If a nerve issue is suspected, like in the case of nerve impingements or compressions, these tests evaluate the electrical activity of the muscles and the speed and strength of nerve signals. They can pinpoint nerve damage and its potential source.
Arthroscopy
Shoulder arthroscopy is a minimally invasive surgical procedure where a small camera (arthroscope) is inserted into the shoulder joint. This provides a clear view of all the structures within the joint, allowing for direct visualization of damage or abnormalities. It's both a diagnostic and therapeutic tool, as certain conditions can be treated once identified during the procedure.
Injection Tests
Sometimes, a diagnostic injection of anesthetic is administered to a specific structure in the shoulder, like a bursa or tendon. If the injection relieves pain, it confirms that the structure injected is the pain source.
When experiencing shoulder pain, it's essential to consult with a medical professional. They can employ one or a combination of these diagnostic approaches to identify the underlying cause and recommend appropriate treatment.
How Do You Get Rid Of Burning Pain In Your Shoulder?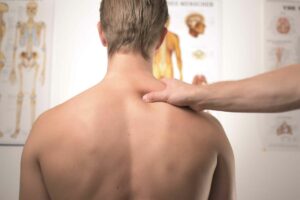 Managing and treating burning pain in the shoulder involves a combination of medical interventions, physical therapies, and self-care measures. However, it's essential to get a proper diagnosis first since the treatment largely depends on the underlying cause of the pain. Below are general approaches to alleviate burning shoulder pain:
Rest and Activity Modification
Taking a break from activities that aggravate the shoulder is essential. Overexertion can exacerbate symptoms and prolong the healing process. It's not about avoiding movement altogether. But rather about recognizing the activities that cause strain or pain in the shoulder and modifying them. By giving the affected area time to heal and not putting it under continuous stress, the recovery process can be more effective.
Cold and Heat Therapy
Cold therapy, often applied with ice packs, is particularly effective shortly after the injury. The cold helps reduce inflammation and numbs the area, providing immediate relief. After the initial 48 hours, heat therapy, applied using warm towels or heat pads, can be introduced. Heat soothes and relaxes the tissues, increases blood circulation, and can assist in alleviating pain and stiffness.
Pain Relievers
Over-the-counter medications, such as acetaminophen or NSAIDs like ibuprofen, can be pivotal in managing pain and inflammation. However, it's crucial to use them as directed and be aware of any potential side effects. Long-term use or overdose can lead to complications.
Physical Therapy
Engaging with a physical therapist can offer tailored solutions. They can provide a series of exercises designed to strengthen the shoulder muscles, enhance flexibility, and restore the range of motion. Some physical therapy sessions may also employ techniques like ultrasound or electrical stimulation to treat pain and improve shoulder function.
Compression and Elevation
Applying compression to the shoulder with an elastic bandage can help control swelling, providing support to the injured area. Similarly, elevating the shoulder, especially after an injury, can reduce swelling. Both techniques help alleviate pain and accelerate healing.
Surgical Interventions
In cases where the shoulder pain stems from severe structural problems, such as significant rotator cuff tears or bone injuries, surgery might be the only option. Surgical procedures can repair damaged tissues, remove bone spurs, or address other structural issues causing the pain.
Posture Correction
Proper posture is often overlooked but is vital. Consistently maintaining a slouched or forward-leaning posture can put undue pressure on the shoulder muscles and joints. Being mindful of posture, especially during prolonged sitting or standing, can prevent and alleviate shoulder pain.
Stretching
Incorporating gentle stretching exercises into daily routines can keep the shoulder flexible and mobile. Regular stretches can reduce the risk of stiffness and improve the overall function of the shoulder joint.
Wearing a Brace or Sling
For certain conditions or injuries, the shoulder may need external support. Braces can provide stability, while slings can restrict movement, preventing further injury and providing the necessary environment for healing.
In all scenarios, consultation with a healthcare professional ensures that the treatment approach is safe. And, is also effective for the individual's specific condition.
Conclusion
In understanding and managing burning pain in the shoulder, it's paramount to recognize its multifaceted nature. Whether stemming from musculoskeletal issues, nerve impingements, or systemic conditions, the pain can significantly impact daily activities and overall quality of life. A comprehensive approach, from accurate diagnosis employing a range of advanced techniques to tailored treatment strategies, is key.
It's always advised to consult with healthcare professionals. They will ensure a holistic and individualized path to recovery and prevent potential complications. If you're experiencing Shoulder pain, physical therapy for shoulder pain at PhysioMantra can help: Book an online physical therapy session.