Dealing with the menstrual cycle can be challenging for many women. Aside from the well-known physical and emotional changes, some women experience lower back pain during their period. This discomfort can range from mild to severe, affecting daily activities and overall well-being. In this article, we will delve into the causes, symptoms, and effective ways to manage lower back pain during periods, ensuring that you can experience relief and lead a more comfortable life during that time of the month.
Understanding Lower Back Pain During Period
Lower back pain during periods, also known as dysmenorrhea, is a common and often uncomfortable symptom experienced by many menstruating individuals. It refers to the pain and discomfort felt in the lower back region, usually coinciding with the menstrual period.
The pain is typically described as a dull, cramping sensation that radiates from the lower back down to the pelvic area. It may vary in intensity and duration, and for some individuals, it can be quite debilitating, interfering with daily activities during menstruation.
Causes of Lower Back Pain During Period
Lower back pain during periods can occur due to several reasons:
Uterine contractions: During menstruation, the uterus contracts to help shed its lining, which is necessary for the menstrual flow. These uterine contractions can cause pain and discomfort, and the pain can be felt in the lower back as well.
Prostaglandins: The release of prostaglandins, hormone-like substances, is a normal part of the menstrual process. However, an excess of prostaglandins can lead to stronger uterine contractions and increased pain during menstruation, including lower back pain.
Endometriosis: Endometriosis is a condition where the tissue that lines the uterus (endometrium) grows outside the uterus, often affecting the ovaries, fallopian tubes, and pelvic lining. During menstruation, this displaced tissue can cause inflammation, leading to pain in the lower back and pelvic region.
Adenomyosis: Similar to endometriosis, adenomyosis involves the tissue that lines the uterus (endometrium) growing into the muscular wall of the uterus. This can lead to painful cramping during menstruation, resulting in lower back pain.
Uterine fibroids: Uterine fibroids are non-cancerous growths that develop in or around the uterus. During menstruation, they can cause increased pain due to hormonal changes and increased blood flow to the area.
Identifying Symptoms
Identifying symptoms of lower back pain during periods involves recognizing the specific characteristics of the pain and understanding any accompanying signs that may indicate an underlying condition. Here are some key symptoms to look out for:
Location of Pain: Lower back pain during periods is typically centered in the lower back region, just above the buttocks. It may also extend down to the buttocks and thighs.
Pain Type: The pain is often described as a dull, cramping sensation. It may be continuous or come and go in waves.
Timing: The pain is usually experienced during menstruation or just before it begins. It may start a day or two before the period and can last for a few days into the menstrual cycle.
Intensity: The severity of the pain can vary from mild to severe. For some individuals, it may be mild enough to manage with home remedies, while others may find it significantly debilitating.
Duration: The pain typically lasts as long as the menstruation continues, but its duration can vary from person to person.
Associated Symptoms: In addition to lower back pain, individuals may experience other menstrual symptoms, such as abdominal cramps, bloating, breast tenderness, and mood changes.
Effective Home Remedies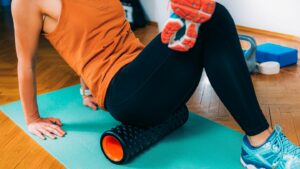 Here are some effective home remedies to try:
Heat therapy: Applying heat to the lower back can help relax the muscles and reduce pain. Use a heating pad, warm water bottle, or take a warm bath to soothe the area. Be cautious not to use extreme heat and avoid falling asleep with a heating pad to prevent burns.
Over-the-counter pain relievers: Nonsteroidal anti-inflammatory drugs (NSAIDs), such as ibuprofen or naproxen, can help reduce inflammation and relieve pain during menstruation. Always follow the recommended dosage and guidelines.
Gentle exercise: Engaging in light physical activity, such as walking, yoga, or stretching, may help alleviate lower back pain and improve blood flow to the pelvic region.
Abdominal massage: Gentle circular massages on the lower abdomen and lower back can provide relief from menstrual pain.
Herbal teas: Certain herbal teas, like chamomile or ginger tea, may have anti-inflammatory and calming properties that can help ease menstrual discomfort.
Dietary Tips for Relief
These are some of the food to avoid and natural supplements you can take:
Increase Omega-3 Fatty Acids: Foods rich in omega-3 fatty acids have anti-inflammatory properties and may help reduce pain and inflammation associated with menstruation. Include sources such as fatty fish (salmon, mackerel, sardines), chia seeds, flaxseeds, and walnuts in your diet.
Eat More Fruits and Vegetables: Fresh fruits and vegetables are rich in vitamins, minerals, and antioxidants that can help support overall health and reduce inflammation. Focus on a variety of colorful options to ensure you get a wide range of nutrients.
Choose Whole Grains: Opt for whole grains like brown rice, quinoa, oats, and whole wheat bread instead of refined grains. Whole grains provide more fiber and nutrients, which can help stabilize blood sugar levels and reduce bloating and discomfort.
Managing Lower Back Pain at Work
Managing lower back pain at work is crucial to ensure your comfort and productivity. Here are some tips to help you alleviate and prevent lower back pain while at work:
Ergonomic setup: Adjust your workstation to promote good posture and reduce strain on your lower back. Ensure that your chair, desk, and computer monitor are at the correct height. Your feet should be flat on the floor, and your knees should be at a 90-degree angle.
Proper sitting posture: Sit with your back against the chair and use a cushion or lumbar roll to support the natural curve of your lower back. Avoid slouching or leaning forward for extended periods.
Regular breaks: Take short, frequent breaks to stand up, stretch, and walk around. Prolonged sitting can worsen back pain, so incorporating movement into your day is essential.
Desk exercises: Perform gentle stretching exercises at your desk to relieve tension in your lower back and other areas. Simple stretches for the hamstrings, hip flexors, and lower back can be beneficial.
Menstrual Products and Back Pain
The use of menstrual products can sometimes be associated with back pain, especially if the products are not chosen or used correctly. Here are some ways in which menstrual products may contribute to or exacerbate back pain:
Menstrual cramps: While menstrual products themselves may not cause back pain, the menstrual cramps that accompany periods can radiate to the lower back, causing discomfort and pain in that area.
Tampons and posture: Using tampons, especially when not inserted correctly or when left in for too long, can lead to a condition called "retrograde menstruation." This is when menstrual blood flows back into the pelvic cavity instead of out through the vagina. Retrograde menstruation can cause pelvic inflammation and contribute to lower back pain.
Sanitary pads: Thick or bulky sanitary pads can alter your posture when sitting or standing, leading to strain on the lower back muscles and potentially causing back pain.
Hygiene products and allergies: Some people may develop skin irritation or allergies to certain materials in menstrual products. Constant irritation in the genital area can lead to discomfort, which may indirectly affect the back due to changes in posture.
Exercising During Periods For Back Pain
Here are some exercise recommendations that may help alleviate back pain during periods:
Yoga: Gentle yoga poses can help stretch and strengthen the back muscles, promoting flexibility and relaxation. Poses like Child's Pose, Cat-Cow, and Cobra can be especially helpful for relieving lower back tension.
Walking: Taking brisk walks can increase blood flow and endorphin production, which can reduce pain and improve mood during menstruation.
Pilates: Pilates exercises focus on core strength and flexibility, which can help support the lower back and alleviate discomfort.
Cycling: Stationary or gentle cycling can be a good option for some individuals, as it is low impact and can help relieve menstrual cramps and back pain
Experiencing Lower Back Pain after Period
Experiencing lower back pain after your period can have various causes, and it's essential to consider both menstrual-related factors and other potential underlying issues. Here are some possible reasons for experiencing lower back pain after your period:
Post-Menstrual Hormonal Changes: After your period ends, hormonal fluctuations can continue to affect the body, including the muscles and ligaments in the lower back. These hormonal changes might lead to muscle tension and discomfort.
Uterine Contractions: Some individuals may experience mild uterine contractions even after their period ends, which can cause referred pain in the lower back.
Endometriosis: If you have endometriosis, a condition where the tissue that lines the uterus grows outside the uterus, you may experience ongoing pelvic pain, including lower back pain, throughout your menstrual cycle.
Conclusion
In conclusion, lower back pain during periods is a common issue that many women face, but it doesn't have to be a hindrance to daily life. Women can manage and reduce this discomfort by understanding the underlying causes, implementing effective home remedies, adopting a healthy lifestyle, and seeking appropriate medical advice when needed. Embracing self-care practices and considering alternative therapies can significantly improve the overall experience of menstruation.
If you're experiencing Back pain, physical therapy for back pain at PhysioMantra can help: Book an online physical therapy session.