Back pain is an ailment that spares no one. Whether you're a fitness enthusiast, a 9-to-5 professional, or a retiree, it's quite possible that you've felt the unwelcome pang of backache at some point in your life. However, understanding the cause and knowing the right management techniques can help alleviate the pain and improve the quality of life. In this blog post, we delve into the depths of mechanical back pain, offering insights into its causes, symptoms, treatment options, and tips to prevent it from hampering your daily activities.
What Does Mechanical Back Pain Mean?
Mechanical back pain is also known as mechanical spine pain or simply back strain. Unlike back pain resulting from certain systemic and inflammatory conditions, mechanical back pain is typically related to how the components of the back move and fit together.
It's called "mechanical" because the pain originates from the mechanical movement of the spine and its structures. For instance, if a disc between two vertebrae in the spine becomes damaged, it may place additional pressure on nearby nerves. And causing mechanical back pain. Most commonly, mechanical back pain presents as lower back pain, but it can occur anywhere along the spine.
The pain can also be intermittent or constant and may change in response to certain activities or positions. For many, it's a temporary condition, but for others, it may become chronic.
What Does Mechanical Back Pain Feel Like?
Mechanical back pain is typically characterized by a variety of symptoms that may differ depending on the specific cause and severity of the condition. Here's what mechanical back pain may feel like:
Location and spread of pain
The pain usually originates in the lower back. But it can also be felt in the middle or upper regions of the spine. In some cases, the pain may radiate to other parts of the body, like the buttocks or thighs.
Mechanical back pain is often described as a dull ache, stiffness, or soreness in the back. Some people may also feel a sharp, shooting, or burning pain. Particularly if the pain is due to nerve compression.
Variation with physical activity and position
The pain may be exacerbated by certain movements like bending, lifting, or twisting. It often improves when the individual is resting or lying down. Sitting or standing for prolonged periods might also worsen the pain.
The severity of the pain can range from a mild, nagging discomfort to a severe, incapacitating pain that disrupts daily activities.
Mechanical back pain can be constant or it may come and go, often following a pattern. For instance, it might be more severe in the morning just after waking up and ease out as the day progresses.
It's crucial to remember that these symptoms can also indicate other medical conditions. So if you're experiencing persistent or severe back pain, it's recommended to consult a healthcare professional.
Is Mechanical Back Pain Serious?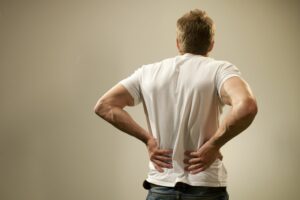 Mechanical back pain can range in intensity from mild, annoying discomfort to severe, debilitating pain. But it's not typically considered life-threatening. It's often the result of poor posture, repetitive strain, minor injuries, or the general "wear and tear" that comes with aging. Rather than a serious underlying medical condition. Most instances of mechanical back pain are acute, meaning they last for a few days to a few weeks.
However, in some cases, mechanical back pain can become chronic and significantly impact an individual's quality of life. These conditions may require more intensive treatment, and in some cases, surgical intervention. Therefore, it's important to seek medical attention if back pain is severe, persistent, or accompanied by other concerning symptoms.
What Are The Possible Causes?
Mechanical back pain can be caused by a variety of factors that affect the structural components of the back. These include:
Muscle Strains and Ligament Sprains: Overstretching or tearing of muscles and ligaments in the back, often caused by heavy lifting, sudden awkward movements, or chronic overuse, can result in mechanical back pain.
Disc Degeneration: As we age, intervertebral discs can lose hydration and elasticity, leading to reduced disc height and bulging. This is a natural process but can cause pressure on the spinal nerves, leading to pain.
Herniated or Bulging Discs: Also known as a slipped or ruptured disc, this condition occurs when the inner material of the disc leaks out and puts pressure on the nerves surrounding it.
Osteoarthritis: Also known as degenerative joint disease, osteoarthritis in the spine can lead to the development of bone spurs that put pressure on the spinal nerves, resulting in pain.
Skeletal Irregularities: Conditions like scoliosis, an abnormal curvature of the spine. This can lead to back pain, especially later in life.
Poor Posture: Chronic poor posture can contribute to ongoing back pain by placing uneven pressure on the back. And causing an imbalance in the surrounding muscles and ligaments.
Obesity: Excess body weight, especially around the waist, puts additional stress on the structures of the lower back, which can lead to back pain.
Sedentary Lifestyle: Lack of regular physical activity can lead to weak back and abdominal muscles. That may not support the spine properly, leading to pain.
Remember, this list is not exhaustive. And there are many other potential causes of back pain. If you're experiencing persistent or severe back pain, it's crucial to consult with a healthcare provider to identify the root cause and determine the best course of treatment.
How Do You Stop Mechanical Back Pain?
Managing mechanical back pain often involves a combination of treatment approaches, including lifestyle changes, physical therapy, and medications. Here are some ways to help stop or alleviate mechanical back pain:
Improper posture can place unnecessary strain on your back. Make sure you're sitting and standing upright. And if you work at a desk, ensure your workstation is ergonomically set up.
Regular physical activity, particularly exercises that strengthen your core and back muscles, can help prevent and manage mechanical back pain. Yoga and swimming are often recommended.
Carrying excess weight, particularly around the waist, can put extra pressure on your spine and contribute to back pain.
A physical therapist can provide targeted exercises and stretches that can help alleviate the pain and strengthen the back and core muscles.
Over-the-counter nonsteroidal anti-inflammatory drugs (NSAIDs). Such as ibuprofen, can help reduce inflammation and relieve pain.
Applying heat or cold to the affected area can provide temporary relief. Heat can help reduce muscle tension, while cold can help reduce inflammation.
Techniques like deep breathing, meditation, and biofeedback can help manage pain.
Rest and Modify Activities
Avoid activities that exacerbate the pain. And ensure you're getting enough rest to allow your body to heal.
Always remember, it's crucial to consult a healthcare provider before starting any new treatment approach, especially if the pain is severe, persistent, or getting worse. In some cases, stronger pain medications, corticosteroid injections, or even surgery may be necessary.
What Exercises Are Good For Mechanical Back Pain?
Exercise is often an integral part of managing and recovering from mechanical back pain. Strengthening the muscles that support the spine, improving flexibility, and promoting good posture can all help to alleviate and prevent this type of pain. Here are some exercises that are generally good for mechanical back pain:
1. Partial Crunches
These help strengthen your back and stomach muscles. Lie down on your back, bend your knees, cross your arms over your chest, and raise your shoulders off the floor.
2. Hamstring Stretches
Stretching the hamstrings can alleviate pressure on the pelvis and provide relief for back pain. You can do this by lying on your back, bending one knee. And raising the other leg straight up, and gently pulling it towards you.
3. Bird Dog
This exercise improves balance and strengthens the core. Start on all fours, tighten your core, and simultaneously extend one leg and the opposite arm, then switch.
4. Pelvic Tilts
This helps strengthen your lower back and alleviate pain. Lie on your back with your knees bent and feet flat, tighten your abdominal muscles, and push your lower back into the floor.
5. Bridge Exercise
This is a great exercise to strengthen the glutes, hamstrings, and lower back. Lie on your back, bend your knees, and lift your hips off the floor while keeping your back straight.
6. Wall Sits
Stand with your back leaning against the wall and slowly slide down until your knees are slightly bent, pressing your lower back into the wall.
7. Pilates and Yoga
These activities can improve flexibility and strengthen the core, providing support for the back.
Remember, it's important to perform these exercises correctly and to stop if you feel any pain. A physical therapist or trained fitness professional can provide guidance to ensure these exercises are being done safely and effectively.
Conclusion
Mechanical back pain, though common and often a nuisance, is typically manageable and treatable. Its underlying causes are varied, but most often are related to how the spine and its supporting structures interact. Recognizing the symptoms and understanding the possible causes can empower you to seek appropriate treatment early. While it may pose challenges, effective strategies can help in managing the pain.
Leading a healthy lifestyle, maintaining a healthy weight, and practicing proper body mechanics can go a long way in preventing this condition. However, never hesitate to seek professional medical advice when your back pain is persistent, severe, or accompanied by other symptoms. Remember, a healthy back is integral to a healthy, active life, so take good care of it!
If you're experiencing Back pain, physical therapy for back pain at PhysioMantra can help: Book an online physical therapy session.