Most of us are familiar with the common aches and pains that come with everyday life. A stiff neck from sleeping in an odd position or a headache after a stressful day are annoyances we've all encountered. But what if you experience a sharp, localized pain in your neck, specifically when you touch a certain area? It could be carotidynia, a lesser-known condition that's often misdiagnosed. Dive into the world of carotidynia with us, as we demystify its causes, symptoms, and treatments.
What Is Carotidynia?
Carotidynia is a syndrome characterized by localized pain and tenderness at the carotid artery bifurcation. This is situated in the anterior region of the neck. It's a rare condition, and the exact nature of carotidynia remains a subject of debate among medical professionals. The pain is typically felt on one side of the neck, often intensifying with palpation or touch over the affected carotid artery.
Despite the discomfort it causes, carotidynia is generally considered a benign and self-limiting condition. It means that it often resolves on its own without causing long-term complications or requiring invasive treatments.
What Does Carotidynia Feel Like?
Carotidynia is characterized by localized, sharp, or throbbing pain at the carotid artery bifurcation in the neck. This pain is typically felt on one side of the neck and can be described as:
Tenderness: The affected area is often sensitive to touch. Pressing or palpating the area can intensify the discomfort.
Localized: Unlike generalized neck pain or soreness, carotidynia's pain is restricted to the region of the carotid artery.
Pulsatile: Some patients might describe the sensation as throbbing or pulsing, given its proximity to the carotid artery.
Variable Intensity: The pain can range from mild discomfort to severe, sharp pain, depending on the individual and the severity of the condition.
It's also worth noting that the pain from carotidynia can sometimes radiate to nearby areas, such as the jaw, ear, or head. That might cause it to be confused with other conditions or ailments. However, its hallmark remains the tenderness and pain localized to the carotid bifurcation in the neck.
What Causes Carotidynia?
Carotidynia, also known as Fay syndrome, is a condition whose exact cause is not entirely understood. However, various theories and potential causes have been proposed over the years:
One of the most widely accepted theories is that carotidynia results from inflammation of the carotid artery wall. The inflammation could be due to various reasons, including trauma, viral infections, or other inflammatory conditions.
Changes in the blood vessels, especially the carotid artery, might lead to pain. Some hypothesize that carotidynia may be related to migraines, given the vascular changes associated with migraines.
An injury to the neck region can sometimes result in carotidynia. The trauma can lead to inflammation or irritation of the carotid artery.
In many cases, the exact cause of carotidynia remains unknown. These are termed idiopathic cases, where despite thorough investigation, no specific cause can be identified.
Some medical experts believe that carotidynia may sometimes be a secondary symptom of other conditions like infections, tumors, or other vascular conditions.
It's important to note that while these are potential causes or associations, carotidynia is a diagnosis of exclusion. This means other more common causes of neck pain need to be ruled out before arriving at a diagnosis of carotidynia.
How Do You Treat Carotidynia At Home?
If you suspect you have this condition, it's essential to first seek a proper medical diagnosis to rule out other potentially serious conditions. Once diagnosed, while severe cases might require medical intervention, mild cases of carotidynia can be managed at home with the following methods:
Over-the-Counter Pain Relievers
Nonsteroidal anti-inflammatory drugs (NSAIDs) like ibuprofen or naproxen can be helpful in reducing pain and inflammation.
Applying a warm or cold compress to the affected area may help alleviate pain. Warmth can reduce muscle tension, while cold can numb the area and reduce inflammation. Remember to never place ice directly on the skin; always wrap it in a cloth or towel.
Avoiding excessive neck movements or strenuous activities that might exacerbate the pain can help in the recovery process.
Using a soft neck collar or brace can provide temporary relief by limiting neck movement and giving the affected area a chance to heal.
Gentle range-of-motion exercises can help maintain neck flexibility and might aid in recovery. However, it's essential to consult with a physical therapist or doctor before starting any exercise regimen.
Avoid Aggravating Factors
If there are specific activities or postures that seem to exacerbate the pain. Then, it's best to avoid them during the recovery period.
Stress might exacerbate or contribute to the pain in some individuals. Techniques like deep breathing exercises, meditation, or progressive muscle relaxation can help manage stress.
Always consult with a healthcare professional before starting any treatment regimen, even for home remedies. They can guide you on appropriate dosages for medications, recommend exercises, or suggest other therapeutic interventions based on your specific case.
What Are The Medical Treatments That Can Help?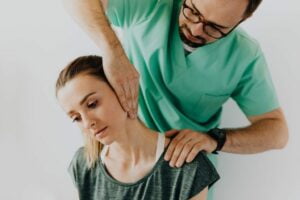 For carotidynia, the medical treatments primarily aim at alleviating pain and addressing inflammation. Depending on the severity of the condition and individual patient factors, a healthcare professional may recommend the following treatments:
Corticosteroids: In cases where the inflammation is severe or not responsive to NSAIDs, a short course of oral corticosteroids might be prescribed. In some instances, a steroid injection near the carotid artery may be considered, although this is less common.
Antibiotics: If an infection is suspected as the underlying cause of the carotidynia, antibiotics will be prescribed to treat the infection.
Physical Therapy: A physical therapist can guide patients through specific exercises and treatments to alleviate pain, reduce inflammation, and restore function. They can also provide advice on posture and neck care.
Pain Management: For persistent or severe pain, referral to a pain management specialist may be warranted. They can offer additional therapeutic interventions. And more potent pain relievers if necessary.
Antidepressants or Antiepileptics: Some medications typically used for depression or epilepsy, like amitriptyline or gabapentin, can also be effective in treating neuropathic pain. And might be prescribed for certain cases of carotidynia.
Surgery: It's extremely rare, but in cases where carotidynia might be due to a vascular anomaly or a structural issue that's causing the pain, surgical intervention could be considered.
Follow-Up Imaging: While not a treatment per se, regular imaging tests (like ultrasound or MRI) might be recommended to monitor the carotid artery and surrounding structures. Especially if the pain persists or if there's any concern about other vascular conditions.
As with any medical condition, the treatment for carotidynia should be individualized based on the patient's specific symptoms, the severity of the condition, and any underlying causes or associated medical conditions. Always work closely with a healthcare professional to determine the best treatment plan.
Conclusion
Carotidynia, though lesser-known, is a condition that reminds us of the intricacies and mysteries of the human body. It underscores the importance of accurate diagnosis, especially in the realm of medical conditions that can be easily mistaken for others. For those experiencing it, understanding carotidynia can be both a relief and a call to action.
While many cases are benign and self-limiting, being informed about their nature, potential causes, and treatment options can greatly assist in managing and overcoming the discomfort. Whether you're navigating this condition personally or are simply on a quest for knowledge, remember the value of professional guidance.
Your health is a journey, and every step taken in awareness makes the path clearer and more navigable. If you're experiencing Neck pain, physical therapy for neck pain at PhysioMantra can help: Book an online physical therapy session.