Hip pain is a common complaint among people of various age groups, but when accompanied by a burning sensation, it can be particularly distressing. This type of pain often results from a complex interplay of factors. While it's essential to consult a healthcare professional for a proper diagnosis, understanding the common causes and symptoms can be helpful. In this blog post, we will explore what may be triggering the burning hip pain, what the symptoms might indicate, and what treatments and exercises can provide relief. Join us as we delve into this complex subject, helping you make more informed decisions about your health.
How Does Burning Hip Pain Feel Like?
Burning hip pain can be a distressing and complex sensation that varies from person to person. It's often described as a continuous, intense warmth or heat in the hip area, coupled with discomfort or sharp pain. Here's a more detailed explanation of how it might feel:
Intensity and Duration: The burning sensation can range from mild to severe and might either come and go or persist consistently. It can be accompanied by episodes of stabbing or throbbing pain. That is adding to the overall discomfort.
Location: The burning sensation may be localized in one specific area of the hip or radiate into the buttock, groin, thigh, or even down to the knee. The precise location often depends on the underlying cause of the sensation.
Associated Symptoms: Along with the burning sensation, individuals may experience stiffness, swelling, or tingling in the hip region. There may also be a loss of mobility or a sensation of the hip "locking."
Emotional Impact: Chronic burning hip pain can affect daily life and lead to feelings of frustration, anxiety, or depression. The persistent discomfort can interfere with routine activities and reduce overall quality of life.
Comparison to Other Sensations: Some people describe the sensation as similar to a sunburn or having a hot object pressed against the skin. It may also feel like a "pins and needles" sensation but with more intensity and discomfort.
Understanding the feeling of burning hip pain requires considering these multiple facets. Consulting with healthcare professionals can help pinpoint the specific characteristics of the sensation. And guide appropriate treatment and management.
What Are The Causes And Triggers?
Burning hip pain can be caused by a variety of underlying conditions and factors. Here's an overview of some common causes and triggers:
1. Nerve Compression or Irritation
Sciatica: Compression or inflammation of the sciatic nerve can cause pain that radiates from the lower back through the hip and down the leg. Symptoms may include burning, tingling, numbness, or sharp pain, often exacerbated by sitting or standing for long periods.
Meralgia Paresthetica: This condition arises when the lateral femoral cutaneous nerve becomes compressed, often due to tight clothing, obesity, or pregnancy. It can cause burning or tingling sensations in the outer thigh and may require lifestyle modifications or medical intervention.
2. Inflammatory Conditions
Bursitis: Bursae are small sacs that reduce friction between bones and soft tissues. Inflammation of the bursae can cause sharp or burning pain, particularly during movement.
Arthritis: Inflammatory arthritis can cause the joint lining to become inflamed. Eventually, leading to stiffness, swelling, and a burning sensation in the hip.
3. Muscle Strains and Tears
Overstretching or tearing the muscles around the hip can lead to acute or chronic burning pain. Rest, physical therapy, pain relievers, and muscle-strengthening exercises are common treatments.
4. Infections
Infections in the joint or surrounding tissues can lead to inflammation, fever, swelling, and burning pain. Antibiotics and possibly drainage of the infected area may be required.
5. Bone Conditions
Osteoporosis: This condition weakens bones, making them more prone to fractures. That can cause sudden, severe pain.
Avascular Necrosis: Lack of blood supply to the hip bone may cause the bone to die. And, leading to pain and potential joint collapse.
6. Triggers and Aggravating Factors
Physical Activity: Certain movements or overuse might exacerbate underlying issues, triggering burning pain.
Poor Posture: Sitting or standing in awkward positions can put undue pressure on the hip, leading to discomfort.
Wearing Tight Clothing: This can compress nerves, particularly in conditions like meralgia paresthetica.
Emotional Stress: Stress might exacerbate chronic pain conditions, including burning sensations in the hip.
Each of these points represents a complex medical issue that requires a unique approach to diagnosis and treatment. Consultation with healthcare providers is essential for a personalized plan tailored to an individual's specific condition, symptoms, and needs.
How Can I Stop Burning Hip Pain?
Stopping burning hip pain requires a multifaceted approach, often involving a combination of medical intervention and lifestyle modifications. Here are some general strategies that might help alleviate burning hip pain:
1. Consult a Healthcare Professional: Proper diagnosis is the first step in treating any condition, so seek medical advice to understand the specific cause of your pain.
2. Medication Management: Over-the-counter pain relievers like ibuprofen or prescribed medications may help relieve inflammation and pain. Always follow the instructions of your healthcare provider.
3. Physical Therapy: A trained physical therapist can design exercises to strengthen the muscles around the hip, improve flexibility, and reduce pain.
4. Use Heat or Ice: Applying ice can reduce inflammation, while heat can relax muscles. Switching between the two or using them as advised by a professional can provide relief.
5. Wear Comfortable Clothing and Footwear: Tight clothing or inappropriate footwear can contribute to hip pain. Choose items that allow free movement and proper support.
6. Practice Good Posture: Proper alignment can reduce unnecessary strain on the hip. Consider ergonomic furniture and be mindful of your posture throughout the day.
7. Consider Surgical Interventions (if needed): In some severe cases, surgery might be the most effective treatment option. Consult with an orthopedic surgeon to explore this possibility.
8. Regular Monitoring and Follow-ups: Stay in touch with your healthcare provider and follow the prescribed treatment plan, making necessary adjustments as symptoms evolve.
Remember, these suggestions are general and might not be suitable for every individual. The most effective way to stop burning hip pain is to work closely with healthcare professionals who can assess your specific situation. And provide tailored treatments and strategies for your unique condition and symptoms.
What Exercises Can Provide Hip Pain Relief?
Exercise can be a powerful tool in relieving hip pain. But it's essential to tailor the movements to your specific condition and symptoms. It's always a good idea to consult with a healthcare provider to develop an exercise plan suited to your needs. Here are some general exercises that might provide hip pain relief:
Hip Flexor Stretch
Kneel on your right knee, with your left foot in front and your knee bent at 90 degrees.
Push your hips forward slightly, feeling a stretch in the right hip flexor.
Hold for 15-30 seconds, then switch sides.
Piriformis Stretch
Lie on your back with both knees bent and feet flat on the floor.
Cross your right ankle over your left knee.
Grab your left thigh and pull it towards your chest, feeling a stretch in the right hip.
Hold for 15-30 seconds, then switch sides.
Bridges
Lie on your back with your knees bent and feet flat on the floor.
Squeeze your glutes and lift your hips off the ground, forming a straight line from shoulders to knees.
Hold for a few seconds, then lower back down.
Perform 10-15 repetitions.
Hip Abduction
Lie on your side with your legs straight.
Lift the top leg as high as comfortable, keeping it straight.
Lower it back down slowly.
Perform 10-15 repetitions on each side.
Clamshells
Lie on your side with knees bent at 90 degrees and legs together.
Keeping feet touching, lift the top knee as high as comfortable.
Lower it back down slowly.
Perform 10-15 repetitions on each side.
Quadruped Hip Circles
Start on hands and knees, with wrists under shoulders and knees under hips.
Lift one leg and make small circles in the air with the knee.
Perform 10 circles in each direction, then switch sides.
Wall Squats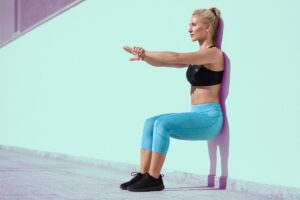 Stand with your back against a wall, feet shoulder-width apart.
Slide down the wall into a squat, keeping knees over ankles.
Hold for 10-30 seconds, then return to standing.
Repeat 5-10 times.
Cat-Cow Stretch
Start on hands and knees, with wrists under shoulders and knees under hips.
Arch your back, dropping your stomach towards the floor, and look up (Cow Pose).
Round your back, pull your stomach towards your spine, and look down (Cat Pose).
Repeat 5-10 times.
These exercises should be performed with care and attention to how they feel. If any movement causes pain or discomfort, it should be stopped, and professional guidance should be sought. Regularly incorporating these exercises into a routine might help strengthen the muscles around the hip. Also, improve flexibility, and reduce pain over time.
Conclusion
Burning hip pain is a multifaceted condition that can stem from various underlying causes. Understanding the specific root of the pain is crucial for implementing an effective treatment plan. That may include a combination of professional medical care, medication, targeted exercises, lifestyle adjustments, and mindful practices. By seeking the guidance of healthcare professionals and being proactive in recognizing triggers, individuals suffering from burning hip pain can often find relief and improve their overall quality of life.
Whether managing a chronic condition or addressing an acute issue, personalized care and a commitment to a tailored approach are key to alleviating discomfort and restoring optimal hip function. If you're experiencing Hip pain, physical therapy for hip pain at PhysioMantra can help: Book an online physical therapy session.