Hip tendonitis is a painful and often frustrating condition that affects many individuals, especially those involved in regular physical activities. This inflammation of the tendons in the hip joint can lead to stiffness, and discomfort, and limit the range of motion, significantly impacting daily life. In this blog post, we'll explore the causes, symptoms, and treatment options for hip tendonitis, and offer practical tips for prevention.
What Is Hip Tendonitis?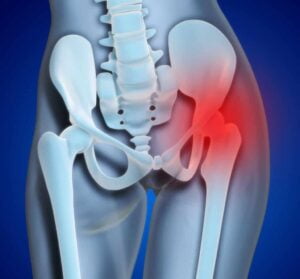 Hip tendonitis is a condition characterized by inflammation or irritation of the tendons in the hip joint. Tendons are the thick, fibrous tissues that connect muscles to bones, and when they become inflamed, they can cause pain, swelling, and reduced mobility in the affected area. The onset of hip tendonitis can be gradual or sudden. And the pain might be localized or spread into the thigh, groin, or buttocks.
In chronic cases, it can lead to a decrease in flexibility and strength in the hip area, limiting daily activities and overall quality of life. Early recognition and intervention are crucial to preventing the condition from becoming more serious or chronic.
What Does Tendonitis Feel Like In The Hip?
Tendonitis in the hip can present a unique and sometimes complex set of sensations. People with hip tendonitis often describe the following feelings:
Pain: This is usually the most prominent symptom. The pain might be sharp and intense or more of a dull, aching sensation. It may be localized to the hip area or radiate into the thigh, groin, or buttocks.
Stiffness: The hip may feel stiff, especially after prolonged periods of rest or in the morning when you first get up. This stiffness can limit your range of motion and make certain movements or positions uncomfortable.
Swelling and Tenderness: In some cases, the area around the affected tendon may become swollen or tender to the touch. This can add to the sensation of stiffness and discomfort.
Weakness: You might feel that the hip lacks strength. Especially during activities that put stress on the affected tendons, such as climbing stairs or running. This feeling of weakness can lead to a lack of confidence in the joint, causing you to alter the way you move.
Snapping or Clicking Sensation: Some individuals report a snapping or clicking feeling in the hip, particularly when moving in specific ways. This can be disconcerting, though it's not always indicative of a serious problem.
Aggravation with Movement: Activities that involve the hip tendons, such as walking, running, or even standing for extended periods, might exacerbate the pain. Conversely, rest often provides relief, although too much inactivity can lead to further stiffness.
The symptoms can vary widely between individuals and may depend on several factors. If you experience these symptoms, consulting with a healthcare provider is the best way to get a proper diagnosis and treatment plan.
What Causes Hip Tendonitis?
Hip tendonitis is often a result of various factors that contribute to inflammation and irritation of the tendons in the hip joint. Here are some of the common causes:
Overuse and Repetitive Strain
Engaging in activities that require repetitive motion of the hip, such as running, cycling, or dancing. This can lead to overuse of the tendons. This continual strain can cause tiny tears in the tendon, leading to inflammation and irritation.
A direct blow to the hip or a sudden, forceful movement can cause immediate damage to the tendons. Eventually, it will be leading to tendonitis.
Poor Biomechanics and Alignment
Faulty body mechanics during movement, such as improper foot alignment or muscle imbalances, can place additional strain on the hip tendons. Over time, this can lead to tendonitis.
As people age, tendons lose some of their elasticity and ability to handle stress. This natural degeneration can make them more susceptible to inflammation and injury.
Underlying Health Conditions
Certain diseases and conditions, such as rheumatoid arthritis or gout, can lead to inflammation throughout the body, including the tendons.
Inadequate Warm-Up or Cool-Down
Jumping into strenuous activities without properly warming up the muscles and tendons or not allowing them to cool down afterward can increase the risk of tendonitis.
Improper Footwear or Equipment
Wearing shoes that don't provide proper support or using sports equipment that's not suited to your body can lead to misalignment and strain on the hip tendons.
Obesity and Excess Weight
Carrying extra weight can put added stress on the joints and tendons, including those in the hip, leading to tendonitis over time.
If you've had a previous injury to the hip or surrounding area, the tendons might be more vulnerable to future problems, including tendonitis.
Jobs that require repetitive movements, heavy lifting, or prolonged standing can contribute to the development of hip tendonitis.
Is Walking OK For Hip Tendonitis?
Walking can be both beneficial and challenging for those with hip tendonitis. And this is depending on the severity and specific circumstances of the condition.
In many cases, walking is encouraged as a low-impact exercise that can help maintain mobility and strength in the hip. Gentle walking, especially on flat, even surfaces, can promote blood flow to the affected area, and support the healing process. And prevent stiffness that might arise from too much rest. It can be a part of a rehabilitation program guided by a physical therapist.
However, for some individuals, especially during acute flare-ups of hip tendonitis, walking might exacerbate the pain and inflammation. Overdoing it or walking on challenging terrains can strain the already irritated tendons. And, then slowing down the healing process. Always consulting with a healthcare provider or physical therapist who understands your specific situation is the best way to determine the right approach.
How Do You Treat Tendonitis In The Hip?
Treating tendonitis in the hip requires a multifaceted approach that combines medical care with lifestyle adjustments to alleviate pain, reduce inflammation, and restore function. Here's an overview of common treatment strategies:
Avoiding activities that exacerbate the pain, especially those that involve repetitive hip movements, allows the tendon to heal. This might include taking a break from certain sports or exercises.
Applying ice to the affected area for 15-20 minute intervals can help minimize swelling and soothe the pain.
Over-the-counter nonsteroidal anti-inflammatory drugs (NSAIDs) such as ibuprofen or naproxen can be used to manage pain and reduce inflammation.
Working with a physical therapist to develop a program of stretching and strengthening exercises can help restore flexibility and function to the hip. The therapist might also use treatments like ultrasound or massage to promote healing.
Corticosteroid Injections
For persistent or severe pain, a healthcare provider may recommend injecting a corticosteroid into the affected tendon to reduce inflammation.
Proper Footwear and Orthotics
Wearing shoes with proper cushioning and support, or using custom-made orthotic inserts. This can help address underlying alignment issues that contribute to tendonitis.
In rare cases, if conservative treatments fail and the condition has led to significant damage, surgery might be considered to repair the affected tendon.
Follow-up appointments with healthcare providers to monitor progress. And make necessary adjustments to the treatment plan.
It's crucial to consult with a healthcare provider to tailor the treatment specifically to the individual's condition, needs, and lifestyle. Often, a combination of these treatments will be the most effective in managing hip tendonitis, and early intervention is key to a successful recovery.
How Do We Prevent Tendonitis In The Hip?
Preventing tendonitis in the hip is largely about adopting healthy habits that protect the joints and tendons from undue strain and injury. While many prevention strategies align with treatment methods, here are additional perspectives to consider:
Educate Yourself: Understanding your own risk factors and recognizing early signs of tendonitis can help you take appropriate action before the condition becomes serious.
Workstation Ergonomics: If you have a job that requires prolonged sitting, ensure that your workstation is set up ergonomically to minimize strain on your hips.
Vary Your Exercises: Cross-training and varying your workout routine can help prevent overuse of the hip tendons. Incorporating different types of exercises builds strength and flexibility without putting repeated stress on one particular area.
Stay Hydrated: Proper hydration helps keep tissues, including tendons, supple and more resistant to strain.
Nutritional Considerations: Eating a balanced diet that supports overall joint health, with nutrients such as omega-3 fatty acids, vitamin D, and calcium, can contribute to tendon resilience.
Warm Up and Cool Down Properly: Don't just jump into strenuous activities; gradually warm up the muscles and tendons. And allow them to cool down afterward. This includes focusing on the hip area.
Listen to Your Body: If you feel pain or discomfort in the hip area, don't ignore it. Take a break from activities that exacerbate the pain and seek professional advice if needed.
Mindfulness and Body Awareness Practices: Engaging in practices like yoga or tai chi that emphasize body awareness can help you develop better movement habits. And prevent imbalances that can lead to tendonitis.
Avoid Smoking: Smoking can reduce blood flow to the tendons, making them more susceptible to injury and slowing the healing process.
Prevention is often the best treatment, and a proactive approach to hip health can keep you active and pain-free. Working closely with healthcare providers and being mindful of daily habits can make a significant difference in preventing hip tendonitis.
Conclusion
In conclusion, hip tendonitis is a condition that can significantly impact daily life and physical activity. But with proper understanding, care, and prevention, it can be effectively managed. The key lies in recognizing the signs early, seeking appropriate medical intervention, and adopting a holistic approach that includes not just treating the symptoms but also implementing lifestyle changes and preventive measures.
Collaboration with healthcare professionals, personal responsibility, and a commitment to one's overall well-being can ensure that hip tendonitis doesn't become a chronic or debilitating issue. If you're experiencing Hip pain, physical therapy for hip pain at PhysioMantra can help: Book an online physical therapy session.