Hip flexor pain is a common but often misunderstood condition that can significantly impact daily life. Whether it's the nagging ache that comes with overuse or a sharp pain hindering your mobility, understanding the root cause of hip flexor pain is crucial for effective treatment and prevention. This blog post will delve into the anatomy of the hip, the common causes of hip flexor pain, and various treatment strategies tailored to individual needs.
What Is The Anatomy Of The Hip?
The hip joint is one of the most integral and complex joints in the human body. It is designed for both stability and mobility. It's a ball-and-socket joint, formed by the articulation between the rounded head of the femur (thighbone) and the cup-like acetabulum of the pelvis. This design allows for a wide range of motion in multiple directions. That icnludes flexion, extension, abduction, adduction, and rotation.
Supporting this joint are numerous ligaments, tendons, and muscles. This stabilizes the joint and facilitates movement. Muscles play a pivotal role in the function of the hip. Among the most crucial are the hip flexors, particularly the iliopsoas muscle. This is actually composed of two muscles: the psoas major and the iliacus. These muscles allow for flexion at the hip joint. The interplay of these structures ensures the hip's versatility in movement and load-bearing tasks.
What Does Hip Flexor Pain Feel Like?
Hip flexor pain is typically characterized by a sharp or dull ache in the front of the hip or the groin area. The pain can be localized or radiated along the front of the thigh. It often intensifies during activities that require flexing or lifting the leg. Such as walking, running, or even standing up from a seated position.
The sensation may vary from mild discomfort to more intense and debilitating pain, depending on the severity and cause of the issue. In some cases, the pain might be accompanied by stiffness, swelling, or a feeling of weakness in the hip area. When the hip flexor muscles are strained or injured, sudden, sharp pain may be felt, often followed by muscle spasms. If left untreated, hip flexor pain can become chronic and may limit the range of motion.
What Causes Hip Flexor Pain?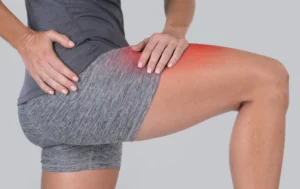 Hip flexor pain can arise from various causes. And each with distinct mechanisms and contributing factors:
Overuse Injuries: Repetitive motions such as running, cycling, or dancing can lead to overuse of the hip flexor muscles, causing inflammation and pain.
Strains and Sprains: Sudden movements, heavy lifting, or an improper warm-up can strain or tear the hip flexor muscles. It will result in immediate pain and discomfort.
Sedentary Lifestyle: Sitting for extended periods can shorten and tighten the hip flexors. Eventually, leading to weakness and pain. This is often referred to as "sitting disease."
Sports Injuries: Athletes in sports that require a lot of kicking, sprinting, or abrupt directional changes are at higher risk of injuring their hip flexors.
Imbalances and Poor Biomechanics: Weakness or imbalances in surrounding muscles can place excessive stress on the hip flexors, leading to pain. This can be due to poor posture, leg length discrepancy, or other biomechanical issues.
Medical Conditions: Certain underlying health issues like hip labral tears, arthritis, or hernias may manifest as hip flexor pain. These conditions require professional medical diagnosis and treatment.
Previous Injuries and Surgeries: A history of injury or surgery in the hip or surrounding area can lead to altered movement patterns and compensations. And ultimately pain in the hip flexors.
Age-related Factors: As we age, the muscles and tendons may lose elasticity and strength. This will make them more prone to injury and pain.
Understanding the specific cause of hip flexor pain is essential for effective treatment and recovery, as each case may require a different approach. Working with healthcare professionals like physiotherapists, orthopedic specialists, or sports medicine experts can help in diagnosing the underlying cause and formulating a tailored treatment plan.
How Do You Relieve Hip Flexor Pain?
Relieving hip flexor pain requires a targeted approach that might combine various treatment methods. Here's a general guide to relieving hip flexor pain. But it's always advisable to consult a healthcare provider for personalized care:
1. Rest and Ice
Rest: Allow the affected area time to heal by avoiding activities that stress the hip flexors. This can include taking breaks from sports or exercise routines that may have caused the issue.
Ice: Applying ice packs to the affected area for 15-20 minutes every few hours can reduce inflammation and numb the area. It will provide relief from acute pain.
2. Stretching and Strengthening
Stretching: Gentle stretches, such as the standing hip flexor stretch or lunges, can improve flexibility and reduce tightness in the muscles.
Strengthening: Focusing on exercises that target the hip flexors. Also, the surrounding muscles can create a balanced and supportive muscle structure, reducing strain on the affected area.
3. Physical Therapy
A licensed physical therapist can conduct a thorough examination and create a personalized rehabilitation program, utilizing exercises, manual therapy techniques, and other interventions to improve function and reduce pain.
4. Pain Relief Medications
Non-prescription anti-inflammatory medications can temporarily reduce pain and inflammation. These should be taken according to instructions or under the guidance of a healthcare provider to avoid potential side effects.
5. Massage Therapy
Regular sessions with a skilled massage therapist who specializes in sports or orthopedic massage can work out knots, improve circulation, and promote relaxation in the affected muscles.
6. Ergonomic Adjustments
Making changes to your workstation, such as adjusting chair height and using proper support, can maintain proper alignment and reduce strain. Regular standing and stretching breaks can also counteract the effects of prolonged sitting.
7. Wearing Appropriate Footwear
Shoes that offer proper support and alignment can prevent additional strain on the hips. Custom orthotics may be necessary for some individuals to ensure proper foot and hip alignment.
8. Alternative Therapies
Acupuncture: This traditional Chinese medicine technique may provide relief by targeting specific points related to pain and tension.
Chiropractic Care: A chiropractor can address alignment issues that may be contributing to hip flexor pain.
By adopting a multi-faceted approach and working closely with healthcare professionals, you can address the unique factors contributing to your hip flexor pain. Personalized treatment is often more effective. As it considers the specific causes, severity, and individual needs and goals.
Is Yoga Good For Hip Flexor Pain?
Yes, yoga can be beneficial for hip flexor pain when practiced correctly and mindfully. Here's why yoga can be a helpful tool for addressing hip flexor issues:
1. Stretching and Lengthening
Yoga poses often focus on lengthening and stretching tight muscles. For the hip flexors, poses like "Anjaneyasana" (Crescent Lunge) or "Eka Pada Rajakapotasana" (One-Legged King Pigeon Pose) can provide a deep stretch to the hip flexor muscles.
2. Strengthening
While yoga is recognized for its stretching benefits, many poses also help strengthen the muscles, including the hip flexors. "Navasana" (Boat Pose) and "Virabhadrasana III" (Warrior III) can engage and strengthen the hip flexor region.
3. Improved Posture
Regular yoga practice can enhance overall posture and body awareness. That can help in identifying and rectifying postural habits that may be contributing to hip flexor tightness or pain.
4. Mind-Body Connection
The mindful nature of yoga encourages individuals to tune into their bodies and recognize areas of tension or discomfort. This heightened body awareness can help in pinpointing problematic movement patterns and adopting healthier habits.
5. Stress Reduction
Stress can manifest as physical tension in the body, including in the hip flexors. The calming, meditative aspects of yoga can help in reducing stress and associated muscle tension.
Still, before starting any new exercise regimen, including yoga, it's wise to consult a physician, physical therapist, or another healthcare professional. Especially if you have an existing injury or health condition. When practiced mindfully and under expert guidance, yoga can be an effective tool in managing and preventing hip flexor pain.
Conclusion
In conclusion, hip flexor pain is a common but treatable condition that can affect anyone, from athletes to office workers. Understanding the underlying causes and employing a multifaceted approach to treatment can lead to successful management. And even prevention of this discomfort. Whether it's rest, physical therapy, or therapeutic practices like yoga, individualized care tailored to specific needs can foster healing. And enable a return to normal function.
Collaboration with healthcare professionals ensures that the strategies employed are safe and effective. Also, helps individuals regain mobility and enjoy a pain-free life. If you're experiencing Hip pain, physical therapy for hip pain at PhysioMantra can help: Book an online physical therapy session.