For many, the word 'endometriosis' might conjure images of a uterus, pain during menstruation, or fertility issues. However, the impact of endometriosis can extend far beyond the confines of the reproductive system. One lesser-known but equally distressing manifestation is hip pain, an issue that many sufferers might not immediately link to their endometrial diagnosis. In this blog post, we'll delve deep into the relationship between endometriosis and hip pain, shedding light on the causes, the science behind the connection, and potential management strategies.
Can Endometriosis Affect Hips?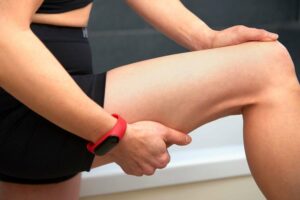 Endometriosis is a condition where tissue resembling the lining of the uterus starts to grow outside of the uterus. Eventually, leading to pain and potentially other complications. While most commonly associated with pelvic pain, endometriosis can have far-reaching effects on various parts of the body. The tissue growth can occur anywhere, including near the hips or the sciatic nerve. This runs down the back and hips. When these lesions affect the areas around the hip or the sciatic nerve, they can lead to hip pain or even sciatica-like symptoms.
Furthermore, endometriosis-related inflammation and adhesions can indirectly impact the hip area. Adhesions are bands of scar tissue that can cause organs and tissues to stick together, potentially leading to discomfort or pain around the hips. It's essential for those experiencing unexplained hip pain to consult with healthcare professionals and explore the possibility of endometriosis being a contributing factor.
What Are The Common Causes Of Endometriosis and Hip Pain?
Endometriosis and hip pain, though distinct in their primary causes, can intersect in various ways. Here are the common causes for each:
Common Causes of Endometriosis
Retrograde Menstruation: This theory suggests that menstrual blood containing endometrial cells flows back through the fallopian tubes into the pelvic cavity instead of leaving the body. These displaced cells then adhere to the pelvic walls and surfaces, proliferating over each menstrual cycle.
Transformation of Peritoneal Cells: Certain hormones or immune factors might induce the transformation of peritoneal cells (those lining the inner side of the abdomen) into endometrial cells.
Embryonic Cell Transformation: Cells in the earliest stages of development might transform into endometrial cells under the influence of hormones like estrogen during puberty.
Surgical Scar Implantation: Endometrial cells might attach to a surgical incision following procedures. Such as a hysterectomy or cesarean section.
Endometrial Cell Transport: Endometrial cells could be transported to other parts of the body via the blood or lymphatic system.
Immune System Disorder: A malfunction in the immune system might fail to recognize and destroy endometrial tissue growing outside the uterus.
Endometriosis-Related Causes of Hip Pain
Direct Involvement: Endometrial tissue might implant near the hip region or the sciatic nerve. When this tissue becomes inflamed or bleeds, it can cause irritation, leading to hip pain or sciatica-like symptoms.
Adhesions: Endometriosis can lead to the formation of bands of scar tissue known as adhesions. These can pull on or constrict organs and tissues, leading to discomfort or pain in the hips.
Postural Changes: Persistent pelvic pain from endometriosis can compel women to adjust their posture or walking style. Eventually, leading to secondary musculoskeletal issues in the hips.
Referral Pain: The pain felt due to endometriosis can sometimes manifest in areas distant from the actual source, such as the hip.
It's essential for individuals experiencing hip pain, especially those with a known diagnosis of endometriosis, to consult with healthcare professionals to pinpoint the exact cause and receive appropriate treatment.
What Does Endo Hip Pain Feel Like?
Endometriosis-related hip pain can manifest in various ways and can be somewhat different from person to person. However, some common descriptions and characteristics include:
Many describe the pain as a deep, internal ache that seems to radiate from within the pelvis or the hip joint itself. It can sometimes be challenging to pinpoint the exact location due to its deep nature.
Some women experience sharp, stabbing, or shooting pains that may extend down the leg, especially if endometrial tissue affects the sciatic nerve. This can mimic sciatica symptoms.
Worsening with Menstrual Cycle
Given the nature of endometriosis, the pain often becomes more pronounced during menstruation when the endometrial tissue outside the uterus also thickens and bleeds.
Activities like walking, bending, or even standing can exacerbate the pain. Some women find relief in certain positions, while others might find these same positions painful.
Some women with endometriosis experience increased hip pain during or after sexual activity.
Endo-hip pain can be accompanied by other symptoms of endometriosis, such as pelvic pain, pain during urination or bowel movements, fatigue, and other related discomforts.
Stiffness or Restricted Movement
Some women report a feeling of stiffness or restricted range of motion in the affected hip.
While the intensity may vary, the pain often remains chronic and persistent, sometimes even outside of the menstrual cycle.
It's essential to remember that the presence of hip pain does not conclusively indicate endometriosis. Many other conditions can cause similar symptoms. If someone suspects their hip pain might be related to endometriosis, it's crucial to see a healthcare professional, preferably a gynecologist familiar with the condition, for an accurate diagnosis and appropriate treatment.
How To Treat Endometriosis And Hip Pain?
Treating endometriosis and hip pain requires a comprehensive approach. Management can vary depending on the severity of the symptoms, the individual's age, their desire for future pregnancies, and other associated health conditions. Here's a general guideline on treating endometriosis and the resulting hip pain:
Medications for Endometriosis
Pain Relievers: Over-the-counter pain medications, such as ibuprofen or naproxen, can help reduce mild to moderate pain associated with endometriosis.
Hormone Therapy: Hormonal medications can help by reducing or halting the production of estrogens, which can encourage endometrial tissue growth. Options include birth control pills, patches, and vaginal rings, GnRH agonists and antagonists, progestin-only therapies, and aromatase inhibitors.
Hormonal IUD: Devices like Mirena release progestin into the uterus. That can reduce pain and heavy menstrual flow for some women.
Surgical Treatments for Endometriosis
Laparoscopy: This minimally invasive procedure can diagnose and remove mild to moderate endometrial lesions. It's the most common surgical procedure for endometriosis.
Laparotomy or Major Abdominal Surgery: This is for severe cases where large cysts or significant adhesions need to be removed.
Hysterectomy: In extreme cases, removing the uterus and possibly the ovaries might be recommended. This is typically a last resort for women who don't respond to other treatments and have decided not to have children.
Managing Hip Pain
Physical Therapy: Physical therapists can offer exercises and techniques to help relieve hip pain and strengthen pelvic floor muscles.
Nerve Treatments: If the endometrial tissue is affecting the sciatic nerve, treatments that target nerve pain might be beneficial.
Postural Training: Learning to maintain an optimal posture can minimize muscle and joint stress, which can alleviate some hip pain.
Pain Medications: Over-the-counter pain relievers or prescription medications can manage hip pain.
Alternative and Complementary Therapies
Acupuncture: Some women find relief from endometriosis pain through acupuncture.
Pelvic Floor Therapy: Helps in relaxing and strengthening pelvic muscles.
Dietary Adjustments: Some dietary changes, like reducing gluten or dairy, may help some women, although research is ongoing.
Heat Therapy: Using a heating pad can provide temporary relief from pelvic or hip pain.
Lifestyle and Home Remedies
Regular Exercise: Exercise can help alleviate pain, improve mood, and promote general well-being.
Relaxation Techniques: Techniques such as deep breathing, meditation, and yoga can help manage pain.
Support and Counseling
Support Groups: Joining an endometriosis support group can provide emotional support and coping techniques.
Counseling: Talking to a counselor or therapist can offer strategies to cope with chronic pain and the emotional toll of endometriosis.
Regular consultations with healthcare professionals, including gynecologists, pain specialists, and physical therapists, can guide treatment decisions. A multidisciplinary approach often offers the best outcomes for individuals with endometriosis and associated hip pain.
Conclusion
Endometriosis and its intersection with hip pain present a multifaceted challenge to countless women. Although the exact mechanisms linking these conditions can be intricate, understanding their relationship and potential treatments offers hope. Through a combination of medical interventions, alternative therapies, and lifestyle adjustments, women can find relief and manage their symptoms more effectively.
As our knowledge continues to expand, so too does the promise of more targeted and effective strategies for managing the complex interplay between endometriosis and hip pain. If you're experiencing Hip pain, physical therapy for hip pain at PhysioMantra can help: Book an online physical therapy session.