The hip joint is one of the most crucial and intricate joints in the human body. Encased by a tough fibrous structure known as the hip capsule, this joint plays a vital role in daily movements and bearing the body's weight. But what happens when this protective sheath becomes the source of discomfort? In this article, we'll delve deep into the world of hip capsule pain, exploring its causes, recognizing its symptoms, and discussing potential treatments.
What Is The Hip Capsule?
The hip capsule, also known as the articular capsule of the hip joint, is a strong, fibrous envelope that surrounds the hip joint. This capsule is formed by ligaments that connect the pelvic bone to the head of the femur (thigh bone). Its primary role is to provide stability to the hip joint, ensuring that it moves within a controlled and safe range.
Additionally, the hip capsule is lined with a thin layer called the synovial membrane. This produces synovial fluid, aiding in lubrication and ensuring smooth movement between the bones. The hip capsule's integrity is vital for optimal function and movement. Tightness or laxity in the capsule can affect the joint's biomechanics, leading to pain and potential mobility issues. Proper diagnosis and treatment are essential in addressing hip capsule-related issues to restore function and alleviate pain.
What Does Hip Capsule Pain Feel Like?
Hip capsule pain is often described by patients in a variety of ways, largely due to its deep location and the intricacy of the hip joint. Common descriptions of hip capsule pain include:
The discomfort often feels like it's deep within the hip joint, sometimes making it challenging to pinpoint the exact source of the pain.
Especially with specific movements or positions, patients may feel a sudden, sharp pain.
At rest or during the night, some may experience a continuous, dull ache.
The hip may feel stiff, particularly in the morning or after prolonged periods of inactivity.
Restricted range of motion
There might be a noticeable limitation when trying to move the hip in certain directions or when attempting to perform specific activities, like putting on shoes.
Catching or locking sensation
Some patients describe a sensation of the hip "catching" or briefly locking during movement.
Although the pain source is the hip capsule, the discomfort can sometimes radiate or spread to surrounding areas. Such as the groin, buttocks, or down the thigh.
Aggravation with movement
Activities that put a strain on the hip joint, like squatting, climbing stairs, or extended walking, can intensify the pain.
Each individual's experience with hip capsule pain can vary based on the underlying cause, activity levels, and individual pain thresholds. If someone suspects hip capsule pain, it's essential to consult a healthcare professional for an accurate diagnosis and appropriate management.
What Causes Hip Capsule Pain?
Hip capsule pain can arise from various causes, often stemming from conditions or events that affect the integrity or function of the hip joint and its surrounding structures. Here are some common causes:
Hip Labral Tear: The labrum is a ring of cartilage that surrounds the hip joint, helping to provide stability. A tear in this structure can lead to pain and may be associated with a feeling of catching or clicking in the hip.
Capsulitis: This is an inflammation of the hip capsule. It can arise due to overuse, trauma, or as a secondary effect of another condition.
Hip Osteoarthritis: This degenerative condition involves the breakdown of cartilage within the hip joint. As the cartilage wears away, the bones may rub against each other. And, leading to inflammation and pain in the capsule.
Trauma: Direct injuries, such as falls or impacts, can cause damage to the hip capsule or the surrounding structures, leading to pain.
Femoroacetabular Impingement (FAI): In FAI, there's an abnormal shape to the hip bones, leading to pinching and rubbing during movement. This can cause damage to the hip labrum and capsule, resulting in pain.
Hip Dysplasia: This congenital condition means the hip socket doesn't fully cover the ball portion of the upper thighbone. That can increase wear and tear on the hip joint and its structures.
Post-Surgical Complications: Surgery on or around the hip, such as a hip replacement, can sometimes lead to tightness, inflammation, or injury to the hip capsule, resulting in pain.
Infections: Infections within the hip joint, although rare, can cause severe pain and require immediate medical attention.
Iliopsoas Tendonitis: The iliopsoas muscle and its associated tendon are located close to the hip capsule. Inflammation of this tendon can mimic hip capsule pain.
Overlapping symptoms can sometimes make it challenging to pinpoint the exact cause of hip pain. And consulting with a healthcare professional is crucial for proper evaluation and management.
How Do You Loosen Hip Capsules?
Loosening the hip capsule can help improve the range of motion, decrease stiffness, and alleviate pain. The following exercises and stretches target the hip capsule and surrounding muscles to promote flexibility and mobility:
Hip Flexor Stretch
Start in a lunge position with the right foot forward and the left leg stretched behind.
Tilt your pelvis slightly forward and engage your glutes.
Gently push your hips forward until you feel a stretch in the front of your left hip.
Hold for 20-30 seconds and repeat on the other side.
Figure-4 Stretch (Piriformis Stretch)
Lie on your back with your knees bent and feet flat on the floor.
Cross your right ankle over your left knee.
Hold the back of your left thigh and gently pull it towards your chest.
You should feel a stretch in the buttock of the right side.
Hold for 20-30 seconds and switch legs.
Hip Capsule Stretch
Begin on all fours in a tabletop position.
Slowly move your right knee forward and outward, so it's outside of your right wrist.
Extend your left leg straight back.
Sit your hips back slightly, aiming to bring your right hip closer to the floor.
You can lean forward to intensify the stretch.
Hold for 20-30 seconds and switch sides.
Hip Circles
Stand with feet hip-width apart.
Place hands on your hips.
Make circles with your hips, moving in a clockwise direction.
Do this for about 30 seconds and then change to a counter-clockwise direction.
Crossover Stretch
Lie on your back with arms extended out to the sides.
Bend your knees and keep your feet flat on the floor.
Slowly drop your knees to the right while turning your head to the left.
Hold the stretch for 20-30 seconds.
Return to the center and drop your knees to the left, turning your head to the right.
Quadruped Hip Rotations
Start on all fours.
Keeping your knee bent at 90 degrees, lift your right leg out to the side.
Rotate it in a circular motion, first clockwise, then counter-clockwise.
Do this for about 30 seconds in each direction and switch legs.
Psoas Release with a Ball
Use a softball or a foam roller.
Lie face down and place the ball just below your hip bone.
Relax your body weight onto the ball, finding tender spots.
Breathe deeply and allow the muscle to release.
Inner Thigh Stretch
Sit on the ground and place the soles of your feet together, letting your knees drop outwards.
Hold onto your feet and gently press your knees towards the ground using your elbows.
Keep your spine straight and lean forward slightly to intensify the stretch.
When performing these stretches and exercises, always maintain a level of comfort. It's essential to avoid pushing yourself to the point of pain. As with any exercise routine, especially if you're experiencing hip pain or have had previous injuries, consult with a physical therapist or qualified healthcare professional. They will ensure that you're doing the exercises correctly and safely.
How To Relieve Hip Capsule Pain?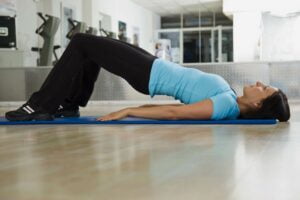 Relieving hip capsule pain requires a combination of medical interventions, physical therapy techniques, and lifestyle adjustments. If you suspect hip capsule pain, it's crucial first to get a proper diagnosis from a healthcare professional. Once identified, here are some strategies to help alleviate hip capsule pain:
Rest and Activity Modification: Initially, refrain from activities that exacerbate the pain. As healing progresses, gradually reintroduce activities while being mindful of pain and discomfort levels.
Cold and Heat Application: Use a cold pack to reduce inflammation and numb the affected area during the first 24-48 hours after a pain flare-up. After the initial inflammation subsides, use heat to relax and soothe muscles and increase blood circulation to the affected area.
Medications: Over-the-counter pain relievers and non-steroidal anti-inflammatory drugs (NSAIDs), such as ibuprofen or naproxen, can help reduce pain and inflammation. Always consult with a doctor before starting any medication.
Joint Mobilization: Specific techniques employed by physical therapists or chiropractors can help improve the hip joint's mobility.
Weight Management: Maintaining a healthy weight can reduce the strain on hip joints, leading to decreased pain.
Supportive Footwear: Shoes with proper arch support and cushioning can lessen the impact on the hip joint when walking or standing.
Ergonomics and Posture: Ensure you maintain a good posture when sitting or standing. If your job involves prolonged sitting, consider ergonomic chairs or standing desks.
In severe cases, Surgery: If conservative treatments do not offer relief and the hip capsule pain is due to structural abnormalities or severe damage, surgical intervention may be considered.
Always consult with a healthcare professional before embarking on any treatment plan. It's essential to have a comprehensive approach, addressing the underlying cause of the pain, to effectively manage and potentially resolve hip capsule discomfort.
Conclusion
Navigating the intricacies of hip capsule pain requires a blend of awareness, proactive measures, and appropriate treatments. From understanding the deep-seated anatomical causes to embracing a comprehensive approach that melds traditional medical interventions with physical and alternative therapies, managing hip discomfort is an attainable goal.
By staying informed and seeking expert guidance, those affected can not only alleviate their pain but also enhance their overall joint health, ensuring a life of mobility and well-being. If you're experiencing Hip pain, physical therapy for hip pain at PhysioMantra can help: Book an online physical therapy session.