Hip dysplasia, often thought of as a condition affecting only our canine companions, is a real and sometimes debilitating issue that many humans grapple with. From its underlying causes to the daily discomfort it can bring, understanding hip dysplasia and the pain associated with it is the first step in seeking relief. In this blog post, we'll delve deep into this orthopedic challenge, shining a light on its causes, symptoms, and possible solutions to ease the pain.
What Is Hip Dysplasia?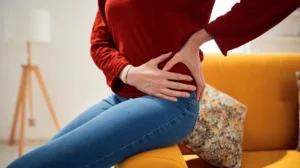 Hip Dysplasia is a developmental condition in which the hip joint fails to develop properly. This abnormal development often results in a loose-fitting joint, where the ball (femoral head) at the top of the thigh bone (femur) doesn't fit securely into the socket (acetabulum) of the pelvis. Over time, this malformation can lead to painful arthritis, wear and tear of the joint, and decreased function.
The exact cause of hip dysplasia is multifactorial, involving both genetic and environmental factors. Individuals with family members who have hip dysplasia may be at a higher risk. However, it's not solely determined by genetics. External factors, like certain positioning of infants during early childhood or particular environmental factors, might also play a role in its development. Early diagnosis and treatment are crucial to prevent further complications and to improve the quality of life of those affected.
What Does Hip Dysplasia Pain Feel Like?
Hip dysplasia pain can vary in intensity and location based on the severity of the condition and the individual's activity level. Here's a general description of what many people with hip dysplasia describe their pain as:
This is the most common complaint. The pain is often described as a deep ache located in the groin area. That can radiate to the front of the thigh and sometimes even down to the knee.
As the condition progresses or after prolonged activity, individuals may develop a limp due to pain.
Some people experience a clicking, popping, or snapping sensation in the hip joint when they move. This can sometimes be accompanied by pain or may occur independently.
Many people with hip dysplasia feel pain after prolonged periods of walking, running, or standing. Activities that involve hip rotation or bending can exacerbate the pain.
Morning stiffness or stiffness after sitting for long periods is common. The hip may feel tight and less flexible.
Decreased Range of Motion
Over time, as the condition progresses, individuals may notice a decreased range of motion in the hip, making certain movements or exercises challenging.
In severe cases or after a particularly active period, some people may even experience pain while resting or lying down.
It's essential to understand that the sensation of pain is subjective. And two individuals with the same condition might describe their pain differently. Additionally, the severity and nature of pain can change over time as the condition progresses or based on the activities the individual engages in.
Does Hip Dysplasia Hurt All The Time?
Hip dysplasia doesn't necessarily hurt all the time for every individual, but the experience of pain can vary based on the severity of the condition, the person's activity levels, and other individual factors. Here's a breakdown:
Early Stages: In the early stages of hip dysplasia, individuals might not feel pain constantly. Instead, they may only experience discomfort or pain after specific activities. Such as intense exercise, prolonged standing, or actions that put a strain on the hip, like lifting heavy objects.
Progression of the Condition: As hip dysplasia progresses, the frequency and intensity of pain may increase. Over time, due to the malformation of the hip joint and the resultant wear and tear, the joint might become more arthritic. This arthritis can cause more constant pain.
Inactivity vs. Activity: Periods of rest or limited activity might lead to reduced pain. However, after such periods, the joint can become stiff, and the initial moments of movement can be painful until the joint "warms up."
Other Factors: External factors, such as changes in weather (especially cold or damp conditions), can exacerbate the pain for some people. Additionally, factors like weight gain, which puts added pressure on the hip joint, can increase the frequency and intensity of pain.
Pain Management and Treatment: Those who receive treatment or engage in pain management strategies (like physical therapy, medications, or lifestyle modifications) may not experience constant pain, even if their condition is advanced. Proper management can significantly improve the quality of life and reduce pain frequency.
Overall, while hip dysplasia can be painful, it doesn't guarantee constant pain. The experience varies among individuals based on a combination of factors, including the severity of the condition, activity levels, external factors, and management strategies.
How To Relieve Hip Dysplasia Pain?
Relieving pain caused by hip dysplasia often requires a multifaceted approach tailored to the individual's specific needs, age, activity level, and the severity of the condition. Here are some general strategies to manage and relieve hip dysplasia pain:
Physical Therapy
Purpose: The primary goal of physical therapy (PT) is to strengthen the muscles around the hip joint, enhancing joint stability, improving range of motion, and decreasing pain.
Specific Exercises: These might include leg lifts, hip abductions, and clamshells. Resistance bands may be introduced for progressive resistance training.
Stretching: Stretches like the pigeon pose or hamstring stretches can help increase hip flexibility, reducing stiffness.
Gait Training: An altered gait due to hip dysplasia can lead to other orthopedic issues or increased pain. PT can help retrain the muscles to promote a more natural walking pattern.
Modalities: Physical therapists might use ultrasound, electrical stimulation, or TENS (transcutaneous electrical nerve stimulation) to manage pain.
Medications
Over-the-counter Pain Relievers: Non-prescription drugs, such as NSAIDs (e.g., ibuprofen, naproxen), can alleviate pain and reduce inflammation. They should be used as directed and with caution, as prolonged use can lead to side effects.
Prescription Pain Relievers: For those with more severe pain, opioids or stronger NSAIDs might be prescribed. These have a potential for addiction or other side effects and should be used under close supervision.
Corticosteroid Injections: Administered directly into the hip joint, these injections can offer rapid relief by reducing inflammation. However, their effects are temporary, and there's a limit to how often they can be used.
Weight Management
Importance: Excess body weight places added stress on the hip joint. Even a small weight loss can significantly reduce hip pain.
Balanced Diet: Incorporating whole foods, reducing processed foods, and monitoring caloric intake can help in achieving and maintaining a healthy weight.
Low-impact Exercise: Activities like swimming, walking, or cycling can help burn calories without putting undue stress on the hips.
Lifestyle Modifications
Assistive Devices: Using tools like canes or walkers can help distribute body weight, taking the pressure off the affected hip. It's essential to get the correct size and learn the proper technique for using these devices.
Activity Modification: While staying active is crucial, it might be beneficial to swap high-impact activities (like running or jumping) for low-impact alternatives (like swimming or elliptical training). This can provide the benefits of exercise without exacerbating pain.
Ergonomics: Ensure that daily activities, such as sitting or driving, are done with proper posture and with the necessary supports in place. This can help in reducing additional stress on the hip.
Heat and Cold Therapy
Cold Packs: Applying a cold pack to the affected hip can reduce inflammation, numb the area, and provide temporary relief. Always wrap ice or cold packs in a towel to prevent frostbite, and limit applications to 20-minute intervals.
Warm Baths or Heat Packs: Heat can help relax and loosen tissues and stimulate blood flow to the area. This can be especially helpful for relieving stiffness. Avoid applying heat immediately after an activity that has aggravated the pain, as this can increase inflammation. Instead, use heat for relaxation and cold for inflammation.
Alternative Therapies
1. Acupuncture:
Purpose: Acupuncture is a traditional Chinese medicine technique where thin needles are inserted into specific points of the body. It's believed to stimulate the body's natural painkillers and increase blood flow.
Benefits for Hip Dysplasia: Many individuals with chronic pain conditions, including hip dysplasia, have reported relief from acupuncture. It's thought to help reduce muscle tension, improve joint flexibility, and decrease pain perception.
2. Massage:
Purpose: Massage therapy focuses on manipulating soft tissue to relieve muscle tension, improve circulation, and promote relaxation.
Benefits for Hip Dysplasia: By targeting the muscles around the hip and lower back, massage can provide pain relief, reduce muscle spasms, and enhance overall mobility.
3. Chiropractic Care:
Purpose: Chiropractors focus on aligning the spine and other parts of the musculoskeletal system to ensure optimal function.
Benefits for Hip Dysplasia: Adjustments can help correct imbalances or misalignments that may result from altered gait or posture due to hip dysplasia. This can potentially reduce pain and improve function.
Bracing
Hip Braces or Belts: These are designed to provide compression and support to the hip joint and surrounding muscles.
Benefits for Hip Dysplasia: Bracing can offer additional stability, reduce pain during activities, and potentially improve the individual's range of motion.
Usage: Proper fitting is crucial to ensure effectiveness and avoid additional complications.
Regular Medical Check-ups
Monitoring the Condition: Regular visits to an orthopedic specialist ensure close monitoring of hip dysplasia's progression. Adjustments in treatments or interventions can be made based on the condition's evolution.
Reassessing Treatment Efficacy: Over time, the body might respond differently to treatments. Regular check-ups allow for reevaluation and adaptation of the treatment plan.
Staying Informed: Medical advances and new treatment modalities are continuously being researched. Regular consultations keep patients updated on the latest and potentially most effective strategies for their condition.
It's essential to remember that while these options offer potential benefits, the right course of action should be determined based on individual circumstances, in consultation with healthcare professionals.
Conclusion
In navigating the challenges of hip dysplasia pain, a multifaceted approach to pain management is essential. From physical therapy exercises tailored to strengthen the hip joint to surgical interventions in more severe cases, each strategy offers its unique benefits. Alternative therapies and lifestyle modifications can further complement traditional treatments, catering to the holistic well-being of the individual. It's crucial to consult with healthcare professionals to tailor a plan specific to one's needs and to stay updated on evolving medical advancements.
With the right approach, those living with hip dysplasia can lead a more comfortable and fulfilling life. If you're experiencing Hip pain, physical therapy for hip pain at PhysioMantra can help: Book an online physical therapy session.